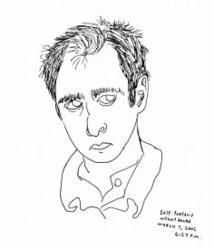 John Porcellino's comics distill, in just a few lines and words, the feeling of simply being alive.
(PRWEB) October 19, 2011
The Drawings and Photography of John Porcellino will be showing at BLAST from November 5th through November 28th, 2011.
There will be an opening reception on November 5th from 6-9pm.
John Porcellino was born in Chicago, in 1968, and has been writing, drawing, and publishing minicomics, comics, and graphic novels for over twenty-five years. His celebrated self-published series "King-Cat Comics," begun in 1989, has inspired a generation of cartoonists. Porcellino's simple, minimalist style can at first glance look like casually tossed off doodles. But these drawings deserve a slower look. (In fact, some of Porcellino's comics are preceded by instructions to read slowly). These stories and drawings have an intimate, zen quality to them. Each of these comics (issue #72 just came out!) is a view into Porcellino's memory and heart. One page might tell a story remembered from a night out with friends in high school, the next will be a slow narrative describing Porcellino's observation of a sunset, and then the next page will be a list of the artists 40 favorite things of the moment (examples; MAD Magazine, Mung Bean Noodles, and Doing the Dishes).
Porcelllino has gone on to have a number of long-form works published, including "Diary of a Mosquito Abatement Man"—a collection of King-Cat stories about Porcellino's experiences as a pest control worker (which won an Ignatz Award in 2005, "Perfect Example," first published in 2000, which chronicles the artist's struggles with depression as a teenager, "King-Cat Classix" and "Map of My Heart," published in 2007 and 2009 respectively, offer a comprehensive overview of the zine's first sixty-one issues, and "Thoreau at Walden" (2008) is a poetic expression of the great philosopher's experience and ideals.
According to cartoonist Chris Ware, "John Porcellino's comics distill, in just a few lines and words, the feeling of simply being alive." Porcellino's work has been translated into French, German, Spanish, Swedish, Italian, and Korean. He currently lives in South Beloit, Illinois.
About Blast
By offering selections of art and other retail items that can't be found in any other store in Teaneck or the surrounding NJ towns, BLAST is the place to satisfy one's urban, outsider, independent creative fix.
With art shows that change monthly, and a wide variety of specially curated merchandise, there is always a reason to pop into BLAST.
BLAST looks to host multidimensional artists that embody an original independent aesthetic, regardless of whether or not the work would normally be considered "high art".
Shows scheduled for 2011 include musicians Jad Fair, Daniel Johnston, tattoo artist Joseph Ari Aloi (JK5), and DEVO's Mark Mothesbaugh.
###