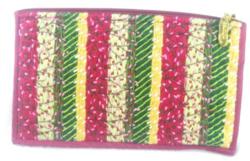 (PRWEB) October 18, 2011
iPurse CEO Robin Trehan announced that the fall and winter line of iPurse collection is now available in stores. So now it's time to give the entire wardrobes a new touch by adding cool accessory like the iPurse. The new fall collection comes in handy for all seasons and can fit with all fashion lines, whether a swing coat or a curvy dress.
Robin Trehan believes the success of a brand is a perfect blend of identity, image and profile.The quality of this brand is to adapt to the fast changing styles according to the season which leads to the overall success. As the seasons change and so the dresses; iPurse gives the natural look to entire outfit. iPurse style and design were already suited for the autumn, spring and summer seasons, and now winter is also added to the collection.
The splendid array of iPurse from fall and winter collection gives a choice of various fascinating and pastel color purses, which makes it the right accessory and gives a sophisticated look. The iPurse Tai Tai, which is available in blue or red color, has a very special exotic touch and compliments to evening dresses. The Half Circle iPurse is available in Silver, Fuchsia and Mauve for a more dramatic look.
The iPurse is perfect for keeping personal things such as mobile phones or sunglasses. Gone are the days when oversized bags were shopped for the most. It's time to change and get an iPurse. iPurse will be the cynosure of all eyes. Nowadays, fashion is a necessity and is an aptitude. The iPurse compliments overall couture. To update one's wardrobe perfectly select fall and winter line of iPurses from the store http://store.ipurse.com.
Contact info
FOR MORE INFORMATION, CONTACT
http://www.iPurse.com
contact(at)iPurse(dot)com
###