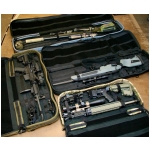 Our new Premiere Gun Case is the result of weeks and weeks of engineering and testing and is the pinnacle in design and functionality—you won't find a higher quality or better functioning American made gun case anywhere
Phoenix, AZ (PRWEB) October 18, 2011
Complementing previous firearm accessories like their Giles Tactical Sling, the Safepacker Holster and world renowned Original Instructor's Belt, Wilderness Tactical Products has recently introduced the Wilderness Premiere Gun Case which not only lives up to their high standard for quality, but does so with supreme functionality.
Loaded with several features for the discerning enthusiast, the Wilderness Premiere Gun Case is a high–end discreet rifle, carbine, SBR and shotgun case with a hybrid construction that allows it to be very soft, yet rigid as well.
Designer Ralph Holzhaus' latest creation offers full 360x360 degree padded protection for your rifle with 3/8" closed-cell foam inside with durable and rugged 1000D Cordura on the exterior. In addition, the unique design allows for the weapon to be suspended internally through Wilderness' innovative aluminum stay system which creates a hybrid internal frame which supports the weight and suspends even the heaviest weapons with no sagging.
Adding to its functionality, the opposite face of the case's inner compartment is covered with two 4" loop fasteners which run the entire length of the case, designed to hold anything that is hook fastener backed, such as organizational patches, name tags and blood type tags—making for highly customizable storage. The case also includes three 12" and three 6" single-wrap self-gripping straps in addition to two 18" and two 12" accessory straps with buckles attached to the PALS webbing for securing the rifle and other heavy objects. The standard height of the case will easily house 20 round magazines while the smaller sizes work great for storing broken down AR precision rifles.
An optional bellowed outer utility pocket is lined with loop fastener for securing optional "shingle" inserts. Modules include a magazine carrier for three (3x) 5.56mm AR-type or 7.62x39mm AK mags. The adaptable pockets even fit magazines with protrusions (AUG or AK). They also have a version for two (2x) 7.62mm mags (M14/M1A, SCAR).The Wilderness Premiere Gun Case is currently available in 4 sizes: 31", 36", 45" and 55" (interior lengths) and four colors: Black, Coyote, O.D. and Gray.
Aided in design by renowned firearm and design consultant, Giles Stock and tactical consultant, Michael Novack, the Wilderness Premiere Gun Case is the result of 30 years of innovation, ingenuity and American made quality, designed to suit the needs of quality conscious enthusiasts everywhere.
"Our new Premiere Gun Case is the result of weeks and weeks of engineering and testing and is the pinnacle in design and functionality—you won't find a higher quality or better functioning American made gun case anywhere," explained Holzhaus.
About Wilderness Tactical Products:
Wilderness Tactical Products, L.L.C. was founded in 1981 to fill the needs of people who demanded durable, high-quality equipment. Their products have been tested from the icy mountain peaks of South America to the blistering Sonoran desert for nearly 30 years and they have proven themselves time and again. Wilderness Tactical Products' branded products have consistently been favorites of serious outdoors people, mountain climbers, search and rescue, American Pistol Institute and Gunsite personnel, as well as armed military, intelligence, police, instruction and civilian professionals around the world. For additional information please call 1-800-775-5650 or visit http://www.TheWilderness.com
Business contact:
Sam Dezonia
602-242-4945
Media contact:
Jason W. Jantzen
Phoenix Marketing Associates
http://www.phoenixmarketingassociates.com
602-282-0202
###