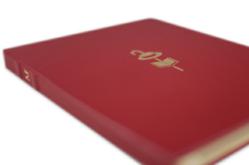 Both DODOcase and Moonbot are moving the idea of the book forward.
San Francisco, CA (PRWEB) October 18, 2011
DODOcase today announced that they have partnered with Moonbot Studios, creators of the revolutionary, chart-topping iPad book App: The Fantastic Flying Books of Mr. Morris Lessmore series, to create a book bound case for the device that brings the Apps rich fiction to life: the iPad. The partnership between DODOcase, the premier maker of hand crafted book bound iPad cases and e-reader accessories, and Moonbot studios, digital media entertainment veterans, demonstrates the future of the "book" by combining inspiration from cutting edge digital storytelling with the physical techniques of bookbinding.
"Moonbot Studios is a multi-platform storytelling company," explained Brandon Oldenburg, Managing Partner and Co Founder of Moonbot Studios. "Partnering with DODOcase to bridge the digital to tangible divide and give Mr. Morris Lessmore the book cover we've always envisioned was a natural progression of our vision."
Both DODOcase and Moonbot are moving the idea of the book forward -- Moonbot has adapted storytelling to leverage all the iPad has to offer and created an entirely fresh experience in the process, and DODOcase uses traditional bookbinding techniques to make a physical book case for new technology and e-readers, thereby keeping the art form alive.
"DODOcase and Moonbot are two companies who appreciate defending books, who are prioritizing the old to embrace the new. Moonbot seeks to preserve the art of storytelling and use new medium to move that art form forward. DODOcase seeks to preserve the physical art of bookbinding, by adapting it to new technology," added Patrick Buckley, CEO and Co Founder of DODOcase. "The Mr. Morris Lessmore DODOcase and Book for the iPad, is the perfect marriage of the old as the new – behold the new "book.""
Featuring a tailored design offering the signature aesthetic recognizable within The Fantastic Flying Books of Mr. Morris Lessmore series, each iPad case has its own unique character as they are hand crafted by local artisans in San Francisco using bookbinding techniques developed hundreds of years ago. The Mr. Morris Lessmore DODOcase will keep your iPad protected while offering a design and angles appropriate for both typing and video functionality, includes a magnet to take full advantage of the iPad's auto on/off feature, as well as easy in and easy out for the use of the rear facing camera feature. The Mr. Morris Lessmore DODOcase is offered at $64.95 and available for purchase now in App, as well as on the DODOcase and Moonbot Studio sites. For more information about all of our products, or to purchase a DODOcase, please visit http://www.dodocase.com.
ABOUT DODOcase:
The DODOcase philosophy is simple, manufacture things locally and help keep the art of bookbinding alive, and off the extinction list where the namesake Dodo bird resides, by adapting it to a world of e-readers and tablets. Each DODOcase has its own unique character, as they are handmade in San Francisco using book binding techniques developed hundreds of years ago. DODOcase launched day one with the iPad in April of 2010 and has steadily expanded their product portfolio ever since, including a case for the Kindle 3, a collaboration with local San Francisco artist Rex Ray, as well as with Jenny Beorkrem of Ork Posters notoriety. DODOcase announced an exclusive case design in partnership with J.Crew and most recently launched a limited run, high-end specialty case collaboration with San Francisco Center for the Book, which exhibit the highest skills within the art of master book binding. DODOcase also makes the BOOKback that offers a familiar, book-like skin for the iPhone4 or iPad2, the latter of which is compatible with the Apple SmartCase. DODOcase has succeeded in creating a case with unmatched style and quality. Follow us on twitter @DODOsays, or on Facebook, and for more information please visit http://www.dodocase.com.
ABOUT MOONBOT STUDIOS:
Founded in 2010, Moonbot Studios is an animation and storytelling company based in Shreveport, Louisiana. Moonbot Studios was co-founded by award-winning artists and filmmakers William Joyce and Brandon Oldenburg, and veteran film producer, Lampton Enochs. Moonbot Studios' philosophy is to develop our stories as books, interactive applications, and games, with a compelling emotional narrative and exciting visual aesthetics.
###