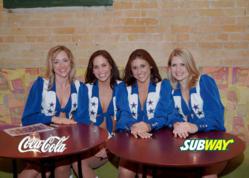 Onsite printing photography with social media is a refreshing addition to convention photography service.
Orlando, FL (PRWEB) October 18, 2011
Onsite printing photography and convention photography combined is making a huge impact for branding and social media. Professional Images Photography has developed a new strategy for the conference and convention Industry maximize their branding and social media.
Recently at a large convention in Orlando, Joseph Rodriguez owner of Professional Images Photography was hired to cover a 5-day convention at the Orange County Convention Center in Orlando, FL and to create a way for the attendees to have a social media souvenir.
As attendees registered for the convention a photo booth was placed next to the registration area. A colorful background was used and props were available for the attendees. As each photo was being printed, their email was entered and a custom email was sent thanking them for attending the conference along with the photo. A sponsor for the convention paid for this fun and unique idea.
Think about the impressions for branding. One photo printed with the logo. A custom email from the President and a digital photo with the logo again sent Wi-Fi and almost everyone gets email on phones. That is a total of 3 impressions that the convention created per attendee that went to the booth. Multiple that with 6700 that were in attendance you had approximately 20100 brand impressions.
Many of the attendees came back showing their photo on their phone and told the staff they sent the picture to Facebook, Twitter, Digg, LinkedIn to name a few of the many social media companies.
Professional Images Photography and onsite printing with social media is a refreshing addition to convention photography service. Joseph said that the impact of this new service has created another market and with already many inquires 2012 is looking really good.
About Us:
Professional Images Photography is a San Antonio, TX based company that provides Convention, Trade show, and Special Event Photography to the Exhibit and Convention Industry Nationwide.
# # #