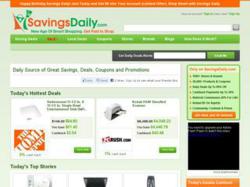 (PRWEB) October 18, 2011
Source: SavingsDaliy.com
Shopping today is far from what it used to be in days past. While only a couple of decades ago we were basically limited to buying what we saw in magazines, on TV and in the local store, today online shopping has expanded not only range of choices but also ability to save money for consumers. Internet is actually quite a large network which can basically connect anyone in the world with anyone else and this basically means that we can make purchases online from anyone, anytime, anywhere.
With the launch of SavingsDaily.com, the site that specialize in providing users with various discount coupons and great deals on a large variety of products, ranging from high-end electronics all the way to health and beauty products, bargain hunters now have one place to check daily. Without a doubt, places such as this are the future of shopping... it's as if all the sales going on in small town and in a single store, and there is even no need to go in it to make a purchase.
While for some people who live simpler lives and don't purchase expensive items often, this may not appear to be as useful as it sounds, but if for example someone is shopping for some nice computer deals, then she definitely can save nice money with all the discount coupons and various offers which are found on the website. When it comes to computer deals, the a fore-mentioned website basically has everything most bargain hunters needed. One can shop in 12 different categories, including tablets, video games, software, various components, printers, monitors, laptops, servers, accessories, game consoles, ink and toner, and desktop computers. In other words, visitor can definitely hope to find pretty much anything needed that is computer-related, whether it's a video card or an expensive piece of software.
Those who are planning on building own computer system without a doubt will find the best computer deals on the parts, seeing as how building a worthy computer can easily cost over $1500. One's who shop through a website specialized in finding the best deals, coupons and savings have great chances saving unimaginable amounts of money on purchases while building the system of their dreams.
Tthose who're simply looking to purchase a pre-made computer and not go through all the trouble of building one can easily find various high-end systems up for sale, a lot of which are subject to very generous discounts, some of which go as far as 32%.
Bargain hunters looking for the best possible computer deals, or simply the best place they could shop at and find anything needed are looking around the internet for websites such as SavingsDaily.com that specialize in bringing all the best offers and discount coupons daily; not only wil one save a lot of time by having many different categories of items on the same website, but they will also save a lot of your precious, hard-earned money.
###