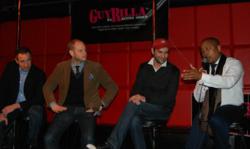 It's about creating a conversation within the male market to make an impact and continue to increase your marketing value
New York, NY (PRWEB) October 19, 2011
"Guy" marketing is King! GuyRilla Marketing Group announces their third-annual "BroCon" summit on Friday, October 28 from 10 a.m.-4 p.m. at the New York Athletic Club (180 Central Park South, NY, New York). Robert Flores, host of ESPN's SportsCenter, will lead several discussion panels featuring senior marketing executives behind top brands like the NBA, NHL, NFL, Microsoft, Nike, Electronic Arts, and Maxim Magazine.
Brian Cristiano, CEO of Bold Worldwide whose clients include Nike, Mercedes Benz, and Everlast, offered a preview of his upcoming panel discussion. "Forty percent of consumers cut their spending over the past two months based on their worries of the economy. This can cause a knee-jerk reaction with some marketers, however understanding this trend can actually lead to opportunities," he declared. "It's about creating a conversation within the male market to make an impact and continue to increase your marketing value," Cristiano concluded. Other topics to be covered include "Buying Behavior (& Misbehavior) of Bros," "Men's Lifestyle Media Trends (online and offline)," and "Top Marketing Tactics for Reaching Men."
A high-value event for select participants, BroCon's attendance is limited to 100 brands, agencies and journalists. Attendees will discover a roomful of prospective promotional partners, customers and trendsetters. GuyRilla's most recent NYC event included executives from Major League Baseball, ABC's Shark Tank, Ogilvy, College Humor, and Sunglass Hut.
In addition to the day's presentations and networking opportunities, attendees will enjoy complimentary lunch and cocktails, haircuts and shoe shines from John Allan's, munchies from popchips, an art gallery from NFL Films' President Steve Sabol, and access to the official after-party at Hooters of Manhattan.
Guests will have the opportunity to engage in real-time dialogue with top executives including Keith Wachtel, Senior VP of Sales and Marketing for the NHL; Jeff Plaisted, Senior Director, US Sales and Strategy and Mobile Advertising for Microsoft; Jeremy Edelman, Marketing Manager for the NBA; and Shaival Shah, VP of Business Development for Hunch.com.
To register or view the full list of speakers, visit GuyRilla Marketing Group's event website here: http://guyrillamarketing.com/home/brocon_networking/. Tickets include entry to the day's presentations and exhibitors, networking opportunities, complimentary lunch and refreshments, post-event open bar, and access to the official after-party.
About GuyRilla Marketing Group™ -- GuyRilla Marketing Group is an exclusive association of business professionals seeking proven strategies and tactics for marketing to men. Through GuyRilla's online and offline networking, members initiate valuable collaborations and co-branding opportunities with groundbreaking entrepreneurs and established industry leaders. In addition to strategic networking, members also learn about trends driving men's behaviors and attitudes toward their product or service. More information about GuyRilla can be found at http://www.guyrillamarketing.com.
Contacts:
Jennifer Bynoe, All In PR – jb(dot)allinpr(at)gmail(dot)com, 571 216 2255
Brian Bauer, COO GuyRilla Marketing – brian(at)guyrillamarketing(dot)com, 646 484 6187
###