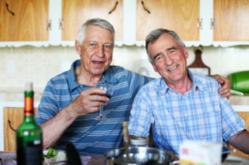 Our people have a real passion for caring. They are people I would trust to take care of my very own grandmother
New York, NY (PRWEB) October 26, 2011
Bright Days Home Care announces that it is open for business. As a provider of companion care services in New York City, Bright Days Home Care looks to be the go-to provider of culturally sensitive home care services that are reflective of the needs and preferences of the communities in which we serve.
Founded by Nadir H. Wright, Bright Days Home Care positions itself as more than just an agency that sends people to your home. "We carefully select only the most reliable caregivers. Our people have a real passion for caring. They are people I would trust to take care of my very own grandmother," said Nadir H. Wright, President of Bright Days Home Care. "I personally match the right caregiver with each client on the basis of a thoughtful and thorough in-home assessment with each client and their family."
Bright Days Home Care actively engages with other organizations that are serving seniors. They are committed to ensuring that people are aware of the plethora of options that are available. "I recognize that people have varying life circumstances and needs. We are positioned to refer folks to the best geriatric care managers, the best independent living facilities, the best elder law attorneys, and a host of other outstanding service providers. We have fostered relationships with professionals and organizations in senior care that share Bright Days Home Care's values. We stand for Honesty, Integrity, Trust, and Compassion," said Nadir Wright.
To learn more about the services Bright Days Home Care provides, please visit http://brightdayshomecare.com. You can also call 1-855-407-1555 to speak to a member of the team. "Please give us a call. We would be happy to help in any way we can", said Wright.
About Bright Days Home Care
Bright Days Home Care is the premier non-medical home care agency in New York City and surrounding areas, providing a wide range of in-home care services. Bright Days Home Care is a locally-owned and operated company and is passionate about serving seniors and those in need throughout the New York City area.
As a member of The Senior's Choice, the nation's largest network of independent private duty companies, our mission is to ensure a better quality of life for our elderly clients and their families by providing dependable and affordable senior care. We are passionate about our home care services and offer a personal touch that enriches the lives of those for whom we care.
Our caregivers share our passion for improving the lives of seniors. We provide them with training and carefully pair them with the right client based on his or her needs. We offer a no-obligation opportunity to assess your needs and discover how we can significantly improve your life and the life of your loved one. For more information, or to request a free assessment meeting, simply contact us at (855) 407-1555 or info(at)brightdayshomecare(dot)com
###