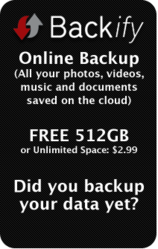 (PRWEB) October 18, 2011
Backify.com, the cloud storage company that shook the IT industry last week by offering 512 GBs of free space for backups, has decided to stop offering free accounts soon. However the customers who have already singed up for free accounts will continue to enjoy the free service for at least one year, maybe more. The company has already signed up 50,000 free users in 4 days since its launch on Thursday last week.
A spokesman for the company said today that the response Backify got was tremendous and totally unexpected. Despite a few glitches in the website on the first day of launch, 50,000 users have already signed up for a free account and hundreds have upgraded to paid accounts. Commenting on some blogs which were trying to spread FUD about the company, he said, "Just wait and watch, they will eat their own words pretty soon."
He further said that the company had originally decided to offer the free accounts all through out the first month after launch. But with the huge response, the company has to cut short the offer. "The free accounts will be available till the end of day Tuesday, so if you still haven't signed up, go ahead and get an account before we stop offering them," he said. After the offer ends, the 512 GB accounts will be available for $2.99 a month if paid monthly, or $1.49 a month if paid in advance for one year. This price is still very cheap as compared to other services.
Backify is a startup company based in Vancouver, British Columbia. It offers online backup and cloud storage services at exceptionally cheaper prices as compared with other companies in the industry.
###