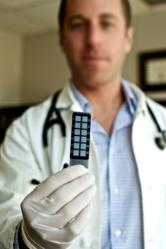 Existence's technology has already saved the lives of a number of my own patients. -Brandon Colby, MD
Los Angeles, CA (PRWEB) October 19, 2011
Existence Genetics provides the most comprehensive and integrated genetic testing and analysis services available anywhere in the world. Existence® has expanded its offering to include testing and analysis for more than 1,000 diseases, conditions, traits, and medication reactions, all at a single time. The test, which is now being offered throughout the world, is noninvasive (requires just a small amount of saliva), costs just a few hundred dollars, and has a turn-around time of approximately three weeks.
OVER 1,000 DISEASES: Existence Genetics provides genetic testing for preventable common diseases such as heart disease, cancer (breast, colon, skin, and prostate), medication reactions, autoimmune diseases, and blood disorders. Existence is proud to announce that the same proprietary Nexus® DNA chip that genetically tests for risks of these common diseases now also simultaneously assess whether the person is a carrier of any one of more than 1,000 rare diseases. To view the list of the rare diseases, conditions, and traits included in Existence's low-cost Rare Disease Screen, please follow this link: http://www.existencegenetics.com/rarediseasescreen.php.
Existence Genetics' has spent over six years inventing its patent-pending genetic analysis technologies and building one of the world's largest genetic mutation databases that spans the entire human genome and covers all fields of medicine and wellness.
Existence provides genetic testing for newborns, children, and adults with two goals: first, implement genetically tailored preventions for any disease the person is found to be predisposed to in-order to protect the person's health and second, to simultaneously provide the person with information about diseases they carry so that they are also empowered to protect the health of his or her future children. Using a single non-invasive test, healthcare professionals and their patients can now use straightforward genetic testing to decrease the incidence of thousands of common and rare diseases.
WORLD'S MOST COMPREHENSIVE GENETIC TESTING & ANALYSIS: Existence's One Genome® philosophy makes the company's genetic testing and analysis of disease risk the most comprehensive in the world. Using this approach, Existence tests for and analyzes virtually all genes and genetic markers known to be associated with a particular disease, including both rare and common genetic markers, such as SNPs, InDels (DIPs), and CNVs.
For example, while other genetic testing services may analyze melanoma risk based upon only one or two genetic markers, Existence Genetics tests for and analyzes 29 markers for melanoma risk. And while other genetic testing services analyze only from five to 15 genetic markers in assessing heart attack risk, Existence analyzes 48 markers.
Existence Genetics is also the only company in the world to provide saliva-based genetic testing for a large number of preventable sudden death conditions, including malignant hyperthermia and sudden cardiac death, which includes Long QT Syndrome (LQTS), Hypertrophic Cardiomyopathy (HCM), Dilated Cardiomyopathy (DCM), Restrictive Cardiomyopathy (RCM), Arrhythmogenic Right Ventricular Dysplasia (ARVD), Brugada Syndrome, and Catecholaminergic Polymorphic Ventricular Tachycardia (CPVT). Existence has already identified a number of people predisposed to sudden death conditions that have then benefited from additional screening and preventive interventions.
INTEGRATED & ACTIONABLE ANALYSIS AND REPORTING: Using its proprietary approach, Existence translates raw genetic data into actionable, understandable, and valuable genetic information. Harnessing its patent-pending genetic analysis Nexus® platform, including Reflex® Analysis technology, Existence Genetics accomplishes this by conducting a comprehensive genetic assessment of disease risk while concurrently performing fully integrated genetic analysis of associated co-morbidities, preventions, and treatments.
Unlike other services that provide only information on disease risk, or provide only information on a single medication reaction, Existence uses its patent-pending analysis to fully integrate this information. Because of this, Existence's genetic reports contain "genetically tailored prevention" information so that risk assessment, disease prevention, and disease treatment are completely integrated and tailored to a person's genes.
This not only makes genetic information concise and straightforward but also greatly increases its value by making the information actionable. The result is Existence's unique ability to conduct genetic analysis for thousands of diseases at a single time in order to provide clear solutions for better health.
About Existence Genetics
Founded in 2005 by a team of physicians, Existence provides healthcare professionals and health and wellness organizations with access to groundbreaking genetic testing services and delivers understandable, useful, and personalized solutions to protect and preserve their clients' health. Existence provides genetic testing and analysis services through healthcare professionals and health & wellness organizations.
Through Existence's cutting-edge technological advancements, genetic prediction and personalized prevention of a wide range of both common and rare diseases are possible before the diseases ever manifest. The future of medicine starts today.
Existence Genetics is based in Los Angeles. For additional information, visit http://www.existencegenetics.com
###