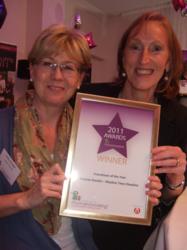 Solihull, West Midlands (PRWEB UK) 22 October 2011
The winners of the prestigious mumandworking 2011 awards have just been announced - and Rhythm Time's children's franchise owner, Frances Donkin, was one of the seven national winners.
The 2011 mumandworking awards were created to reward, recognise and celebrate the companies and individuals that make flexible working possible. The awards highlight those outstanding examples that prove that family-friendly employment not only supports family life but gives real benefits to the companies and businesses involved.
The awards were held as part of the National Business Mums Summit in Brighton on 10th October 2011. Sarah Beeny, TV presenter, author, entrepreneur and mum said of this year's event:
"As a mum of four boys, aged six, five, two and one, I completely understand the importance of flexible working and the value of spending time with your family. It's great that the mumandworking awards celebrate the people who are making this possible for parents across the UK, and its great to see so many successful mums out there taking part."
The awards received over 400 nominations and the ceremony was hosted by X – Factor's inspirational coach Alexandra Watson. There were a number of categories embracing the full employment spectrum - from working parents, flexible employers, mumpreneurs/parentpreneurs alongside 2 new awards for the best start up of the year and the best growing business. Frances Donkin, who owns the Rhythm Time children's franchise in Cheshire, was winner in the 'Franchisee of the Year' category.
"We are absolutely delighted with this award" said Frances. "The awards are based around flexible working and this is something that has been an important part of my work policy. My classes are term-time only and all my staff work part-time which complements their family life. Rhythm Time also provides all its franchisees with an excellent framework of support, training and ongoing development that helps them to grow strong, yet flexible businesses" she adds.
Frances was the first person to buy a Rhythm Time music franchise back in 1999 and has now built a highly successful business providing music classes to approximately 1600 children across Cheshire.
Within each Rhythm Time children's franchise, youngsters enjoy a unique set of music courses that have been specifically written by Founder and Director Kathy Doolan (previously Head of Music at a Scottish school) and created to help a child's confidence, creativity and co-ordination. The classes are aimed at different age groups, specifically: music classes for babies (from birth to 14 months), music classes for toddlers (15 months to 3 years), and music classes for pre-schoolers (3 – 5 years). A child can show key signs of development at each stage, so it is highly beneficial to progress throughout all 3 age groups.
The musical children's franchise group now has approximately 9500 children attending Rhythm Time sessions across 300 venues. Franchisee growth is also at an all-time high, with five new franchisees joining Rhythm Time in 2011 and two further franchisees due to start in January 2012. This brings the current franchisee total to 38 across the UK.
Like many other Rhythm Time franchise owners, Frances Donkin was attracted to Rhythm Time due to her love of music, and wanting a career that fitted around her family commitments. Her daughter attended Rhythm Time classes at a young age and years later, she has now achieved a piano dipABRSM and is starting her music degree at university.
For more information on a Rhythm Time children's franchise throughout the UK, contact Kathy Doolan on 0121 711 4224 or visit the Rhythm Time website.
Information for Editors
http://www.rhythmtime.net
Rhythm Time
76 Beechwood Park Road
Solihull
B91 1ES
Telephone: 07813 831516 / 0121 711 4224
Email: marketing(at)rtfg.co.uk
Frances Donkin bought the first Rhythm Time franchise in 2000. She has built up a successful business across Cheshire that provides music sessions to around 1600 babies, toddlers and pre-schoolers.
Frances is an avid fundraiser and raises money for a variety of charities including The Children's Trust. She also offers a flexible working environment for her staff, enabling them to work whilst retaining their family commitments.
Rhythm Time was started in Solihull in 1995 by Kathy Doolan and now has franchises all over the UK, operating in 300 venues with approximately 10,000 children attending classes.
Rhythm Time offers three age-appropriate classes for babies (birth to 15 months), toddlers (15 months to three years) and pre-school (three to school age).
Children come to Rhythm Time as tiny babies and progress to toddler and pre-school classes, enjoying a wonderful introduction to music.
All the courses have been created by Kathy, who trained at the Royal Scottish Academy of Music & Drama in Glasgow.
Kathy previously was head of music in a Scottish school and shares with all franchisees and teachers a real passion and belief in the importance of music during a child's formative years.
Kathy is a strong believer that singing unaccompanied helps to develop a child's speech and language from an early age and these forms a key element in all the classes.
###