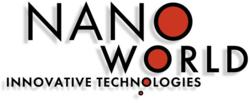 Neuchatel, Switzerland (PRWEB) October 18, 2011
Daniel Guntli, formerly the Assistant General Management, has joined NanoWorld AG's management team as the new Chief Operating Officer.
"Dr Guntli is ideally positioned to take over the responsibility for our operations. He joined NanoWorld over three years ago and gained in-depth knowledge of NanoWorld's global operational processes and has a track record of successful project management and leadership," said NanoWorld CEO Manfred Detterbeck. "I'm happy that Dr Guntli will strengthen our management team and I have every confidence that he will further improve our customer focus and operational excellence, ensuring flexibility in response to an increasingly demanding marketplace."
Dr Daniel Guntli studied at the ETH Swiss Federal Institute of Technology in Zürich, one of the world's leading universities in natural sciences, engineering, architecture and business economics. He earned his degree with a PhD thesis at its Institute of Plant Sciences. His career in interdisciplinary, cross-cultural teams included positions as the deputy of the head of the foreign direct investment promotion agency at the Swiss State Secretariat for Economic Affairs SECO where he was responsible for project management, strategic planning and operations and as project manager at the Swiss national exhibition Expo.02.
"Given his background in biology, Dr Guntli has become one of our main contacts for AFM users in life sciences, one of the most dynamic sectors of the AFM market," said NanoWorld's head of marketing, Michaela Roessger. "He will continue to provide the best possible support to AFM users in such exciting subjects like the developing field of high speed scanning."
About NanoWorld AG:
Swiss-based NanoWorld AG (http://www.nanoworld.com) is a leading manufacturer of high quality tips for Scanning Probe Microscopy (SPM) and Atomic Force Microscopy (AFM). The Atomic Force Microscope (AFM) is the vital instrument for the whole field of nanoscience and nanotechnology. It enables its user coming from research and commercial nanotechnology businesses to investigate materials on an atomic scale. Scanning probes for Atomic Force Microscopy produced by NanoWorld AG are the key consumable, the "finger" that enables the scientist to scan surfaces point-by-point on an atomic scale. The consistent high quality of the scanning probes is vital for reproducible results.
Using NanoWorld's expertise as well as our high precision AFM Probes, our clients are able to get the best results they need for atomic force microscopy (AFM).
###