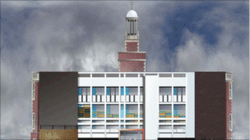 This project collaboration has helped to transform the once drab and uninspiring space into a modern and colourful hub for student activity
(PRWEB UK) 20 October 2011
Leading environmental firm SLR Consulting has collaborated with Faulkerbrowns Architiects and BAM Construction Ltd on an £8m project to refurbish Newcastle University's Students' Union (SU) building.
The project has transformed the entire building and has significantly improved the services and facilities available to students. These include new 24-hour computer clusters and social learning areas, a dedicated sport, societies and volunteering area, Student Advice Centre, gig and event space as well as new places to eat and drink.
SLR redesigned the courtyard to the rear of the Union with new paving, Disability Discrimination Act (DDA) compliant steps and ramps – all in natural stone.
In partnership with Faulknerbrowns' scheme architect Alistair Stripp, SLR also designed external cladding and new handrails to the various elevations surrounding the courtyard. SLR's graphics team, who are based in Sailors Bethel in Newcastle, prepared a number of 3D visualisations of the scheme during the design development phase.
SLR's Senior Landscape Architect Adrian Clarke, who designed the scheme, said: "This project collaboration has helped to transform the once drab and uninspiring space into a modern and colourful hub for student activity."
Notes to editors:
SLR is an international environmental consultancy, based near Oxford in the UK, with almost 900 employees working from 63 offices in the Europe, North America, Australasia, and Africa. SLR is one of a very small number of truly international specialist environmental consultancies.
It provides global advice and support on a wide range of strategic and site-specific issues to a diverse and growing base of business, regulatory and governmental clients. Key areas of SLR's business are the energy and mining sector where it is involved with both the oil and gas industry, renewable power including wind, energy from waste, hydropower and biomass, and advises mining companies and funding organisations throughout the world. SLR is also the leading consultant to the private sector waste management industry in the UK and undertakes a significant amount of planning and environmental impact assessment work for major commercial developers.
For more information go to: http://www.slrconsulting.com
For further press information please contact:
Samantha Stagg or Annabel Hafner, James Reed Public Relations Ltd
Tel: 0117 929 0405; Email: samantha(at)jamesreedpr(dot)co(dot)uk
# # #