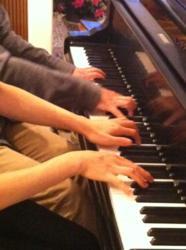 Miami, Florida (PRWEB) October 21, 2011
Thomas Connelly and Santiago Rodriguez have been named to the executive board and artistic advisory board, respectively, of The Dranoff International Two Piano Foundation, a Miami-based nonprofit foundation that presents and encourages two piano performance.
Connelly, managing director at Boyden Global executive search, brings his background in the entertainment, leisure and hospitality practices to Dranoff. He has worked with some of the world's premier hotels, airlines, cruise lines and restaurant corporations, placing candidates in a variety of C-suite level and executive positions. Connelly participated in a major trade mission promoting Miami-Dade County in China and Malaysia, and his business expertise, background in cultural anthropology and connections in South Florida will benefit Dranoff greatly.
"The most beautiful gifts my parents gave were the love of reading and of music," recalls Connelly. "They said with these I would never be lonely. How true. In fact, my piano has become one of my best friends. If we can convey this same love to our children and coming generations, we will empower them to self expression and a direct encounter with the highest vibrations of humanity. I am delighted to serve on the board of The Dranoff International Two Piano Foundation, for its work is compelling and crucial to furthering a love of the arts and music in particular. I am also proud that my firm, Boyden Global Executive Search, encourages and supports this kind of investment in our community."
Rodriguez is dean of keyboard performance on the faculty of the University of Miami Frost School of Music. He has been described as "a phenomenal pianist" (The New York Times) and "among the finest pianists in the world" (The Baltimore Sun). As a chamber musician, Rodriguez has enjoyed collaborations with illustrious ensembles such as the Guarneri String Quartet and The Chamber Music Society of Lincoln Center. One of today's foremost interpreters of the music of Sergei Rachmaninov, Rodriguez is currently recording The Rachmaninov Edition which, when completed, will encompass the entire catalog of Rachmaninov's original solo piano compositions. Having spent time in an orphanage as a child, Rodriguez's talent and determination led him in 1981 to win the silver medal at the prestigious Van Cliburn International Piano Competition, which launched his international career. His background in piano performance and elite competitions will serve as valuable assets to the artistic advisory board.
"The Dranoff is incredibly fortunate to add Thomas Connelly and Santiago Rodriguez to our roster of board members," said Gabriele Fiorentino, president of The Dranoff International Two Piano Foundation. "The wealth of experience and excellence they bring to the organization will only make us better."
About The Dranoff International Two Piano Foundation
Since 1986, The Dranoff International Two Piano Foundation has been the presenter of the prestigious International Two Piano Competition. Its mission is to give a performance platform to professional duo pianists, to broaden interest and patronage of this art form, and to contribute to the repertoire by commissioning new works from contemporary composers. It is a Steinway & Sons competition and is accredited by the World Federation of International Music Competitions in Geneva.
For more information, please contact Dranoff at (305) 572-9900, mail(at)dranoff2piano(dot)org or visit dranoff2piano.org.
###