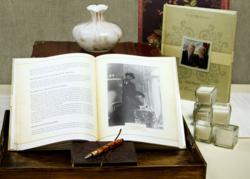 Bloomington, IND (PRWEB) October 18, 2011
Legacy Keepers, the only nationwide complete legacy preservation service, today released "Filling in the Legacy Gap," a white paper that addresses the Baby Boomer generation's strong desire to preserve an emotional legacy. Based on a landmark study sponsored by Allianz Insurance, the white paper examines the shift from the cultural norm of primarily leaving just financial preparations for future generations, to leaving a more complete legacy. Additionally, it indicates that the interest in preserving a personal legacy is a growing interest, one that will likely gain traction with future generations.
"Technology and social media have made the dissemination of personal information a mainstay in the modern lifestyle—it only makes sense that that mindset would be present as people begin to think about their own mortality," said Corina Kellam, director for Legacy Keepers. "Simply preparing a will just won't cut it; people and their families are looking for more."
This growing desire for personal legacy preservation has opened up an entirely new service industry Boomers are eager to utilize. To address this need, Legacy Keepers built a nationwide network of personal historians who work with individuals or loved ones to compile the information needed to succinctly capture a personal legacy. These stories are then complied and preserved as a professionally edited Legacy Book, high-definition DVD or audio CD set.
"There is a clear distinction between an inheritance and a legacy, and we've found it's not just assets and wealth that retirement-aged people are looking to pass down to their kin," said Keith Ogorek, senior vice-president of Legacy Keepers and author of the "Filling in the Legacy Gap" white paper. "People rely on financial planners and attorneys to secure their personal finances—it makes sense that they seek out professionals to capture and preserve their personal legacies."
To read the complete "Filling in the Legacy Gap" white paper or for more information about the original Allianz study, please visit http://bit.ly/n5rW9D. To begin preserving a personal history today, call 1-877-444-3607 or log on to http://www.LegacyKeepers.com.
About Legacy Keepers
Legacy Keepers is the only company with a national network of Personal Historians and other heritage-preserving professionals who capture your story and turn your words and pictures into professionally produced audio, print and video legacies to share with present and future generations. With our private and professional services, Legacy Keepers makes it simple to record your personal legacy or that of a loved one.
###