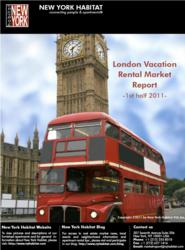 With hotel prices up by as many as 500% for the Olympics, vacation rentals will remain a great value for customers visiting London during the Olympics.
New York, NY (PRWEB) October 20, 2011
New York Habitat has just released the 1st half 2011 London Vacation Rental Market Report. The report details the present state of the London Vacation Rental Market, offers insights into the future of the market and offers comparison data from past years. The report has been designed to provide information and advice for apartment owners and people traveling to London about the vacation rental market.
The 1st half of 2011 continued to see strengthening of the London market. Prices of vacation rentals were climbing and the number of requests was increasing as well. With the price increases, customers were more selective about their apartment choices and considered hotels as an alternative. Overall, bookings were slightly down. Some of the factors influencing the London vacation rental market included:

Increasing travel growth during the economic rebound
Preparation for the Olympics which is leading to more hotel construction and more vacation rental options
The London Vacation Rental market is strong and continuing to grow. On the heels of the 2012 London Olympics, vacation rental owners are preparing by raising prices, improving apartments and making more properties available. In the meantime demand for London vacation rentals might be slightly softer as some people postpone trips to London while waiting for a major vacation during the Olympics.
"Prices for the vacation rentals in London will go up for the Olympics and customers are already beginning to book," says market report creator Brian Lowenberg; he goes on to say "With hotel prices up by as many as 500% for the Olympics, vacation rentals will remain a great value for customers visiting London during the Olympics."
Within the report there is a mixture of text, graphs and tables to summarize the past, present and future market conditions. Some of the highlighted information includes:
Apartment prices over the past three years
Percentage of apartments rented by type (studio, 1-bedroom, 2-bedroom, etc.)
Pricing by apartment type
Popularity of neighborhoods based on completed rentals
And more
For 2011 the company began offering new neighborhood information for London which is more precise and helpful for customers looking for apartments in London. The new neighborhood information is included in this report.
To share this and past London Vacation Rental Market Reports, New York Habitat has created a London Furnished Apartment Market Reports webpage. All of the previous London market reports back to 2007 are also available on the London Market Report webpage.
Established in 1989, New York Habitat is a fully licensed residential real estate agency, specializing in furnished apartment rentals in London, New York, Paris, and the South of France. With a team of multilingual agents working around the world, New York Habitat is able to provide clients with a selection of more than 12,000 apartments and houses that are available from one day up to one year or more.
We invite you to contact New York Habitat for more information about this London market report and for any other services you may require (listing your apartment, corporate housing, student housing, and/or renting in any of our destinations). For the latest London market news and to learn more about New York Habitat-related topics, please visit New York Habitat's blog.
###