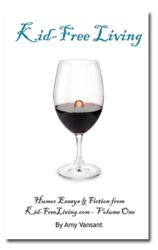 "It's SO hard to put a blog in a Christmas stocking," said Vansant.
Annapolis, MD (PRWEB) October 20, 2011
Author Amy Vansant's new book, "Kid-Free Living – Humorous Essays and Fiction from Kid-FreeLiving.com" collects two years of posts from Vansant's popular humor blog "Kid-Free Living" and makes them accessible the old-fashioned way: sans Internet connection. The paperback, available on Vansant's web site at http://www.Kid-FreeLiving.com, as well as Amazon and other retailers, is an example of how the ease of modern, on-demand printing has empowered bloggers to translate their digital works into print media.
Often using her husband and neurotic Labradoodle as fodder, Vansant fills Kid-Free Living with stories as varied as the fictional tale of a burglar who can't help but redecorate his victims' homes, to the author's own chagrin at being assigned unflattering pass-phrases by an online shopping web site. With a style that has been compared to Dave Barry's for its clean and satirical nature, Vansant's master of naturalistic dialog and flair for finding the goofiness in every day situations has made her a favorite among kid-free readers and parents alike.
"The 'Kid-Free' title of my blog just refers to my free time to write and cocktail at will," says Vansant. "My early readers were often child-free, but the empty-nesters wanted to play too, and then the parents got blogsitters and showed up. I don't discriminate. My age-range sweet-spot for fans is probably 30 years-old to death. Readership dramatically drops-off after death."
With on-demand printing options available for little investment, Vansant saw the opportunity to turn her online blog into a paperback book for readers who would like to catch up on archived postings or just preferred to do their reading offline.
"It's SO hard to put a blog in a Christmas stocking," said Vansant.
Vansant designed the book, ultimately choosing Amazon's on-demand publishing arm, CreateSpace as her printer. Finding the on-demand printing process practically painless, Vansant hopes fellow bloggers will follow suit and put their digital words on paper as well.
"I know I'm not the only one who likes to curl up with a good book that doesn't glow," said Vansant. "And there are a lot of talented writers out there who deserve to make a few dollars from the blood, sweat and livers they've sacrificed to their blogs."
Additional Information
Amy Vansant is a freelance writer, former East Coast Editor of SURFER Magazine, and author of The Surfer's Guide to Florida (Pineapple Press, 1995). She is also a professional nerd and owner of VansantCreations.com Web Development.
###