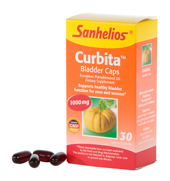 Ghent, NY (PRWEB) October 20, 2011
Bioforce USA is proud to announce that Curbita Bladder Caps has been named Best of Supplements from Better Nutrition magazine. Curbita is a soft gel capsule that contains 1000 mgs of rare cold pressed European pumpkinseed oil, derived exclusively from the special medicinal pumpkin. Oil from this special pumpkin has long been used traditionally to support healthy bladder function for men and women.
This year marks the 4th anniversary of the Best of Supplement Awards. According to the magazine they focused on quality/type of ingredients, product uniqueness in the marketplace, popularity of the product, reader feedback and reviews, as well as expert feedback. In addition to the editorial team, contributing writers and health experts helped select the winning products.
According to Pierce Sioussat, President of Bioforce USA, the US distributor of Curbita, "healthy bladder function is a real quality of life issue. Sanhelios® found that high dosages of a specific, rare pumpkinseed oil from pumpkins grown in Austria has the unique ability to enhance bladder function, leading to a strengthening of the bladder muscles as well as the functional-urinary system. We felt that this is a product we need to bring to US consumers. This award is gratifying, as it affirms that Curbita is a natural product that does enhance the quality of life for many folks."
About Bioforce USA
Bioforce USA has created long-term strategic alliances with European manufacturers of product lines that have years of clinical research support for safety and efficacy, plus years of repeat consumer use. Bioforce USA has brought these lines, which include A. Vogel, Sanhelios, Herbatint, Bionorica and SECURE exclusively to the United States for distribution through natural products and health food stores.
For more information call Eileen Sheets at 800-641-7555 or go to http://www.BioforceUSA.com
###