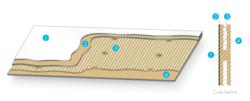 Our newly engineered Everyday FRP showers and tub-showers set a new standard for strength and durability industry-wide.
Anaheim, California (PRWEB) October 18, 2011
Aquatic, the world leader in innovative and inspirational bathware, today announced that its Everyday fiberglass-reinforced product (FRP) showers and tub-showers have been reengineered and now are 40 percent thicker than before and 50 percent stronger than comparable competitive products.
Although Aquatic's Everyday FRP showers and tub-showers have long led the market in strength and durability, the company has further fortified these fixtures to include fully reinforced, encapsulated wall systems. The result: bathware that is built for even more years of use and able to withstand all the rigors of shipping, handling, installation and reverse impact. The newly reinforced products are 25 percent more resistant to reverse impact compared with products from most leading manufacturers.
This reengineering is the latest example of the company making a significant investment to enhance its products following the 2010 merger of Lasco Bathware and Aquatic Whirlpools into a single company renamed Aquatic. In September, Aquatic announced completion of a yearlong program to refresh its entire line of hydrotherapy tubs.
"We are always looking for ways to make our already terrific products even better and as completely in sync as possible with what our customers want, which changes periodically," said Tom Kobel, product manager of Aquatic's Everyday line. "Our newly engineered Everyday FRP showers and tub-showers set a new standard for strength and durability industry-wide."
Aquatic's newly-engineered FRP showers and tub-showers derive their superior strength from a four-stage layering process during manufacturing:
1. The surface layer is a premium-grade, ultra-glossy gelcoat that is smooth and highly durable.
2. At first lamination, a mixture of fiberglass and resin begin building the unit's strength. Resin acts as the binding agent for thousands of small strands of fiberglass that are woven together to provide structure and rigidity. Aquatic's formula is higher in glass content than many competitors, yielding a stronger product.
3. A corrugated reinforcement is wrapped around each of the shower walls. The resin saturates and bonds the material, filling its peaks and valleys, and permeating through a pattern of perforations placed every four inches on the corrugation.
4. A second coat of the fiberglass/resin mixture is layered on top of the reinforcement, sandwiching the core between two layers of lamination. As the formula cures, the lamination and reinforcement harden and solidify. Glass and resin that collects at the perforations form rivet–like unions that lock the reinforcement into place and build even more structure and strength.
About Aquatic
Born from the 2010 merger of Lasco Bathware and Aquatic Whirlpools, Aquatic is the world leader in bathware, offering the broadest and most inspiring selection of tubs, showers and accessories. The company's Hydrotherapy, Everyday and Accessible lines include more than 300 superbly designed and engineered products for virtually every need. Based in Anaheim, California, Aquatic serves distributors, builders, architects, designers and consumers through a nationwide network of state-of-the-art facilities for manufacturing, distribution and support. For more information, visit http://www.aquaticbath.com.
# # #