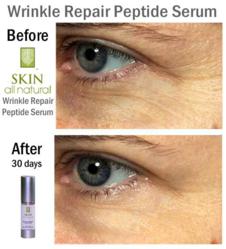 Peptides possess a very high bio-activity. That means cosmetic effects can be obtained with very low quantities.
Apex, Raleigh, NC (PRWEB) October 19, 2011
Being committed to formulating products that stimulates skin's inherent healing and beautifying mechanisms, SKIN all natural™ scientists, effectively utilize naturally occurring phyto (plant based) peptides complex in their new 100% natural wrinkle repair serum targeting facial wrinkles, dark circles and puffiness around eyes.
Peptides are short linear chains of two to about fifty amino acids. They occur naturally in all living beings and usually exert highly specific biological activity, based and dependent on their exact sequence. The primary function of most peptides is a signaling one: to bring a biochemical 'message' and trigger an action.
Instead of externally masking or filling in wrinkles temporarily or chemically bleaching dark circles, SKIN all natural™ wrinkle repair serum, works internally at the molecular level. Each peptide works like a messenger molecule with a highly specific activity; one, stimulating skin's natural process of collagen production, the other trigger protective cellular actions, yet another, activate macromolecular synthesis... These carefully selected, naturally occurring peptides have no undesirable side effects. Additionally peptides, if entering the blood stream are quickly metabolized. These peptides also work in synergy with [other natural ingredients included in the formulation like micro algae, pullulan polysaccharides, vitamins and anti-oxidants to neutralize free radicals, restore skin homeostasis, enhance skin elasticity and improve overall health of the skin.
SKIN all natural™ is a 100% natural cosmeceutical brand of Choice All Natural, Inc. a social corporation based in Apex, NC, dedicated to manufacturing and marketing only all natural safe and effective consumer products. Learn more by visiting http://www.skinallnatural.com.
###