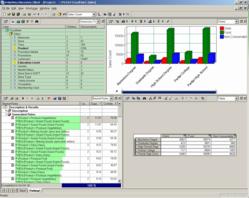 Las Vegas, NV (PRWEB) October 20, 2011
Decision Systems Inc. (DSI) is announcing that they will be the exclusive distributor of PolyVista Business Analytics for IBM Cognos TM1. PolyVista seamlessly combines OLAP analysis with data mining and visualization, an extraordinary product offering for clients of DSI, an industry expert in TM1 implementation since 1995.
"PolyVista, like no other solution, melds financial, marketing, and operational OLAP analysis with advanced analytics. Unlike IBM SPSS, PolyVista concentrates on the discovery aspect of data mining versus predictive analytics. For this reason, I believe it complements IBM's offerings and extends the abilities of TM1 like nothing else I've seen during the fifteen years I have been working with TM1", states Reid Karabush, President of Decision Systems Inc., "We are excited to be the exclusive distributor of PolyVista for IBM Cognos TM1".
For years, business users have relied upon OLAP reporting and analysis tools to help manage financial performance. A combination of factors, including the need for business to become pro-active in their ability to adapt to quickly changing market and government regulation, the quantum increases in data, and the paradigm shift the Internet brought to sales and marketing have driven the need for enhanced tools like PolyVista, designed to address these new challenges.
PolyVista, first released in support of Microsoft Analysis Services, delivers next-generation analytics directly into the hands of business users. Unlike traditional data mining packages, PolyVista leverages the familiar OLAP interface, seamlessly combining specialized data and text mining algorithms along with data visualization that delivers valuable, new information proactively to the business analyst. This unique approach enables such capabilities as proactive variance analysis for financial performance management (FPM), the ability to combine structured and unstructured textual data for analysis purposes directly within a TM1 cube, and the ability to build TM1 cubes containing the hundreds of dimensions typically required for market and operational analysis.
Jim Willard, Vice President of Sales at PolyVista, is enthusiastic about PolyVista for IBM Cognos TM1. "By leveraging Decision Systems experience with IBM Cognos TM1, we are able to offer PolyVista to TM1 users immediately. We look forward to working with them to best serve the fast-growing IBM analytics market."
Users of PolyVista include Southwest Airlines, Compaq / HP Computers, Trane and others. For additional information about PolyVista for IBM Cognos TM1, contact Decision Systems at 1-877-447-8766 info@decisionsystems.com or visit http://www.decisionsystems.com/polyvista.htm
Decision Systems Inc. provides financial performance management, advanced analytical solutions and data mining, to a variety of industries. Decision Systems was founded in 1989 to meet the expanding need for consultants in these fields, and has been instrumental in introducing and customizing technology solutions for clients ever since. Current clients include the Major League Baseball Players Assoc. (MLBPA), IPEX Inc., and others.
TM1 is a registered trademark of IBM Corporation | PolyVista is a registered trademark of PolyVista Inc.
Kris Kelly, Account Executive
Decision Systems Inc.
847-433-0876
http://www.decisionsystems.com
info(at)decisionsystems(dot)com
###