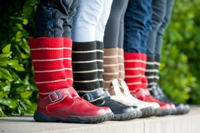 Kazowe Shoes - savvy designs with sensible function for children shoes.
Toronto Canada (PRWEB) October 21, 2011
A keen eye for savvy yet sensible design, an entrepreneurial spirit and a desire to create ties to her children's country of birth were the stars that aligned to create Kazowe Shoes. Kazowe Shoes fills the niche for parents,celebrities and stylists looking for designer children's footwear with savvy yet sensible function. The signature collection of Kazowe Shoes is the fall Rider Boot which comes in an assortment of colours and styles. The soft wool of the upper boot provides warmth for fall days, while being easy to pull on and off. This unique durable design truly offers a new style in the market place. The soft wool upper of the boot adds a unique spin to children's footwear fashion. Worn with a legging, tights or skinny jeans these boots add versatility to any girls wardrobe. But don't be fooled by their unique design, these boots offer functional footwear and are made to handle the rough and tumble life of kids. The winter collection of the Alexandria and Loopy Lucy winter boots combine top quality leather, sensibility stitched high rubber sole with a warm lining that keep toes and feet warm and dry on cold winter days. How cold? Minus -30 is no problem for these boots! There is no reason why a functional winter boot has to be big, chunky and heavy. Streamlined, light and durable these boots provide both warmth and style. Tobogganing,, walking to school, playing at recess, heading to the ski hill, are all everyday winter activities current lovers of Kazowe winter boots are enjoying.
About Kazowe Shoes Inc:
Kazowe Shoes Corporation is a Children's footwear manufacturer and online boutique who offers savvy designer footwear for the feet of Canadian and US children. Kazowe shoes are also available at select retail stores in several Canadian provinces. With a mothers need to combine sensible with style, Kazowe Shoes is launching itself as the new kid on the footwear block.
###