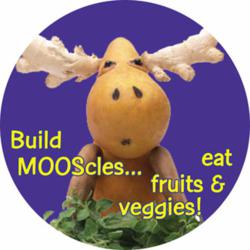 Given the aftershocks of too much Halloween sugar, aren't there healthy alternatives to candy?
Owatonna, MN (PRWEB) October 18, 2011
While kids prepare their costumes, parents, doctors and dentists get ready for the Halloween aftershocks of too much sugar. Aren't there healthy alternatives to bags full of Halloween candy?
Of course there are! Learning ZoneXpress makes five suggestions for nutritious and safe treats that don't trick the body into unhealthy habits:
Stickers: Kids love stickers for their school books, for craft projects, to add to their costumes. You can even hand out healthy eating stickers from Learning ZoneXpress. Best of all, stickers don't have calories, sugar, corn syrup, or trans fats!
Party Prizes: It's not too hard to find spider rings, ghost erasers, and other Halloween-themed knick-knacks. We've also seen glow bracelets, silly bands, and even tiny tubs of Play Dough. Lots of fun for not a lot of money!
Healthy Snacks: Sugar free gum. Granola bars. Small bags of crackers, dried fruit, or pumpkin-shaped pretzels. Safety-conscious parents appreciate something packaged, so fresh fruit, alas, is not such a great idea.
Get Crafty: You can find all kinds of Halloween craft projects online. (There are some clever, crafty websites that can help. You'll need to make a bunch, so enlist your own kids to help!
Money: Think about giving out nickels, dimes or quarters. The best part? The kids can spend – rather than eat - the leftovers! (And at 20 cents per bite-size bar, it's about the same price as candy.)
You could also host a Healthy Halloween Party! Get together with other parents and plan an evening of games, healthy snacks, and maybe even a costume parade. The kids (and grown-ups!) still get to dress up, and families get a chance to mingle. Maybe have a campfire and make s'mores -- after all, no one said that Halloween has to be completely treat-free.
Owatonna, Minn.-based Learning ZoneXpress is a leading source of award-winning teaching tools. It's mission is to help improve the health and vitality of children by providing relevant, creative and affordable learning tools about life skills, healthy behaviors and nutrition. Learning ZoneXpress offers a wide variety of affordable educational DVDs, posters, MyPlate products, prizes, and PowerPoint presentations. They are dedicated to responsive and personalized customer care. For more information about Learning ZoneXpress products, visit http://www.learningzonexpress.com or call Linnea Duffus at 888-455-7003.
###