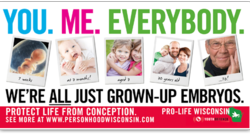 The personhood movement has tremendous grassroots support in Wisconsin and throughout the country.
Green Bay, WI (PRWEB) October 18, 2011
With plans for a Personhood Amendment in the works, Pro-Life Wisconsin is promoting the landmark effort with a new billboard which states, "You. Me. Everybody. We're all just grown up embryos." The billboard is the first of its kind in Wisconsin, designed by the Ireland pro-life powerhouse group Youth Defence.
"Through this billboard, we aim to raise awareness about the humanity of the preborn person and the need for enshrining the right to life in our Wisconsin state constitution. Demonstrating that at one point, all of us were just embryos, the personhood message is one we can all identify with," explained Virginia Zignego, Communications Director of Pro-Life Wisconsin.
The billboard directs viewers to personhoodwisconsin.com which outlines the efforts being made towards a statewide personhood amendment and offers resources and answers to tough questions. The website also includes a video featuring Wisconsin State Representative Andre Jacque who plans to introduce the amendment.
"The Personhood movement is growing rapidly, and we expect great things in Wisconsin," stated Keith Mason, President of Personhood USA. "Personhood USA is in it to end it, and as we continue to see new personhood amendments and personhood efforts, we are witnessing a historical movement to finally end the destruction of human lives and to protect women and children at all stages of life."
Pro-Life Wisconsin has announced that the new billboard will rotate among different Green Bay locations. The billboard is a collaborative effort of Pro-Life Wisconsin, 40 Days for Life of Green Bay, Youth Defence, and Personhood USA.
"The personhood movement has tremendous grassroots support in Wisconsin and throughout the country, and we are excited to be able to spread that message even further," stated Zignego on the Pro-Life Wisconsin website.
Personhood USA is a grassroots Christian organization founded to establish personhood efforts across America to create protection for every child by love and by law. Personhood USA is committed to assisting and supporting Personhood Amendments and building local pro-life organizations through raising awareness of the personhood of the pre-born.
###