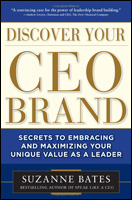 Peterborough, NH (PRWEB) October 18, 2011
Digital marketing agency @Website Publicity announced today the signing of new client Bates Communications, a national consulting firm specializing in leadership communication skills and strategy. Founder and CEO Suzanne Bates is a former television anchor, a writer, speaker, and author of "Speak Like a CEO," "Motivate Like a CEO" and the just-released book Discover Your CEO Brand:Secrets to Embracing and Maximizing Your Unique Value as a Leader.
@Website Publicity is supporting the company's web initiatives with search engine marketing services, including Paid Search advertising campaign management. The goal is to continue to grow awareness of Bates Communications' services, which include executive coaching and communications training, workshops and boot camps. The Search and Display campaigns will also focus on promoting Bates' newest book, "Discover Your CEO Brand," as well as providing greater access to the company's Special Reports, such as Leading in the Age of Change: Three Critical Stages in Communicating Organizational Change.
For more information about Bates Communications, visit the company's website at Bates-Communications.com
@Website Publicity is a digital marketing agency in Search, Social and Mobile. Founded in 1998, it serves multichannel merchants and B to B marketers throughout the United States. For more information on @Website Publicity, call 800-450-2818, ext. 203, or visit WebsitePublicity.com.
# # #