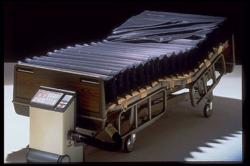 It's cutting edge technology in medical textiles.
Boston, MA (PRWEB) October 19, 2011
Medical Fabric - New medical fabric is waterproof and breathable.
A full line of fabrics for OEMs and contract manufacturers of healthcare products such as wheelchair cushions, mattresses, and orthopedic braces is being introduced by Eastex Products, Inc. of Holbook, MA -- http://www.eastexproducts.com.
Eastex Medical Fabrics include 100% polyester and polyester-nylon blends offered in several stretch and non-stretch constructions with different coatings to match specific product requirements. Fluid-proof, breathable, antimicrobial, flame-retardant, and air-tight for manufacturing inflatable products, these healthcare fabrics can be sewn and sonic or RF welded.
Supplied as 54" to 60" rolls, Eastex Medical Fabrics are offered in standard black and light and dark colors; with custom color matching optional. Total thickness, weight, tensile and tear strength, and other properties vary with each version, including 2 or 4-Way stretchability. An antimicrobial bedbug-resistant fabric for mattresses is available.
Eastex Medical Fabrics are priced according to construction and quantity. Free evaluation samples and price quotations are available upon request.
For more information about Eastex Products, please tour our website http://www.eastexproducts.com or call 781-767-4511. We look forward to hearing from you soon and welcome the opportunity to quote your next project.
###