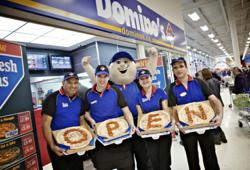 (PRWEB UK) 19 October 2011
Domino's Pizza, the UK's leading pizza delivery company, opened its first store inside a Tesco Extra yesterday October 17, 2011. Located on Town Gate Retail Park in Dudley, the new store has created 15 local jobs.
Domino's new Dudley store offers a wide menu of pizzas for collection and includes a 'ready to go' option enabling customers to pick up a pizza straight away after doing their shopping. Pizza lovers can also order ahead in person at the store or by phone, online or using Domino's iPhone, iPad and Android apps to ensure their favourite pizza is piping hot and ready for them to collect at a time to suit them.
Chris Moore, chief executive of Domino's Pizza, said: "Opening our first store with Tesco was a landmark day for us. We are excited to be able to reach a new market with this concept, which offers shoppers the convenience of being able to order a pizza in advance and pick it up on their way home."
Steve Goswell, store manager of Tesco Extra Dudley, said: "We are delighted to be joining forces with Domino's. The opening day was a great success and their piping hot pizza was well received by lots of hungry shoppers here at Tesco Extra Dudley."
The store is open daily, from 11am – 11pm Monday to Saturday, and 11am – 4pm on Sundays. For more information on Domino's, log onto http://www.dominos.co.uk.

Notes to Editors
The new Domino's store is located at Tesco Extra, Town Gate Retail Park, Birmingham Road, Dudley DY1 4RP.
Domino's Pizza UK & IRL plc is the leading player in the fast-growing pizza delivery market and holds the exclusive master franchise to own, operate and franchise Domino's Pizza stores in the UK and the Republic of Ireland. The first UK store opened in Luton in 1985 and the first Irish store opened in 1991. In April 2011, the Group acquired a majority stake in the exclusive master franchise to own, operate and franchise Domino's Pizza stores in Germany.
As at 25 September 2011, there were 702 stores in the UK, Republic of Ireland and Germany. Of these, 553 stores are in England, 47 are in Scotland, 28 are in Wales, 19 are in Northern Ireland, one is on the Isle of Man, one is a mobile unit, 49 are in the Republic of Ireland and four are in Germany.
Founded in 1960, Domino's Pizza is one of the world's leading pizza delivery brands. Through its primarily franchised system, Domino's Pizza operates a global network of more than 9,350 Domino's Pizza stores in 70 international markets. Domino's Pizza has a singular focus – the home delivery of pizza, freshly made to order with high quality ingredients.
Customers in the UK can order online at http://www.dominos.co.uk and customers in the Republic of Ireland can order online at http://www.dominos.ie. In addition, mobile customers can order by downloading Domino's free iPhone, iPad and Android apps.
For more information, please contact:
The Domino's Pizza Press Office
Domino's Pizza Group Ltd
Tel: 01908 580654
E: pr(at)dominos.co.uk
Ref: DPGL/CM/537
###