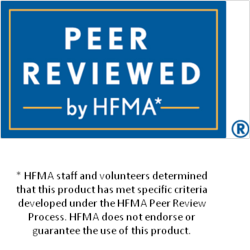 We are proud to have been recognized by HFMA as providing a service of strategic value to their members.
Elmhurst, IL (PRWEB) October 20, 2011
The Healthcare Financial Management Association (HFMA) recently reviewed MedSpeed, an ISO-certified technology-enhanced healthcare transportation solutions provider, using the Peer Review Process. After undergoing the rigorous review MedSpeed's Healthcare Transportation Solutions has been granted the "Peer Reviewed by HFMA®" designation.
Since its inception, MedSpeed has specialized in using technology and analytics to develop better ways to execute efficient transportation to meet the demands unique to the healthcare industry, while improving quality, decreasing costs and creating a strategic advantage for its customers. MedSpeed's ultimate goal is to help organizations reduce risk and achieve maximum business value. This is accomplished by transforming locally-optimized healthcare transportation into a globally-optimized, leverageble logistical framework.
Partnering with MedSpeed allows healthcare organizations to realize strategic gains without investing time and resources to build or upkeep internal functions. Removing the burden of day-to-day execution and management of transportation from management and staff allows healthcare organizations to focus efforts on improving the patient experience and providing quality care.
"HFMA is a highly respected organization that provides valuable resources for healthcare finance executives and their organizations to achieve sound fiscal health and provide high quality care," said Bonni L. Kaplan, Vice President of Marketing for MedSpeed. "Obtaining "Peer Reviewed by HFMA®" status was a rigorous process that is in direct alignment with our mission to improve the quality and efficiency of healthcare through strategic transportation partnerships. We are proud to have been recognized by HFMA as providing a service of strategic value to their members and look forward to a longstanding relationship."
HFMA's Peer Review process is designed to provide healthcare financial managers with an objective third party evaluation of products and services used in the healthcare finance workplace. The rigorous, eleven-step process consists of a peer review panel consisting of current customers, prospects who have not made a purchase, and expert HFMA Peer Review board members. Peer Review status approval of the product or service and its performance claims are based on effectiveness, quality and usability, price, value, and customer and technical support.
"HFMA's Peer Review process provides our membership with the assurance that those who have earned the designation have met a rigorous screening process," says HFMA President and CEO Richard L. Clarke, DHA, FHFMA. "The Peer Reviewed designation helps members and others identify and evaluate products and services that their organization may need. It can also create brand awareness and recognition in the healthcare finance marketplace for Peer Reviewed products and services."
About HFMA
The Healthcare Financial Management Association (HFMA) provides the resources healthcare organizations need to achieve sound fiscal health in order to provide excellent patient care. With more than 37,000 members, HFMA is the nation's leading membership organization of healthcare finance executives and leaders. HFMA helps its members achieve results by providing education, analysis, and guidance, and creating practical tools and solutions that optimize financial management. The organization is a respected and innovative thought leader on top trends and challenges facing the healthcare finance industry. From addressing capital access to improved patient care to technology advancement, HFMA is an indispensable resource on healthcare finance issues. http://www.hfma.org
About MedSpeed
Every patient interaction, from a routine clinic visit to an urgent blood transfusion, relies in some way on the same-day pickup and delivery of a specimen, pharmaceutical, radiology film, blood product, medical record or supply. MedSpeed is an ISO-certified, technology-enhanced healthcare transportation solutions provider that helps organizations reduce risk and achieve maximum business value. For more than ten years, healthcare organizations have worked with MedSpeed to transform their transportation into a globally-optimized, leverageble logistical framework – ripe to produce quality service results and an enhanced economic value proposition. Governed under the principles of Lean Six Sigma, MedSpeed's superior approach to transportation design and execution consistently delivers operational quality, economic value and strategic advantage. http://www.medspeed.com
# # #