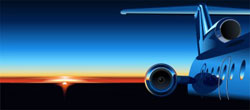 "We have experienced strong demand from our CO and LA markets and these private jets will further support our ability to service those clients."
(PRWEB) October 20, 2011
JetSelect continues its growth and strategic fleet positioning with the addition of these private jets for charter. These additions will strengthen JetSelect's nationally based fleet by adding resources to its Los Angeles and Denver bases. The Bombardier Lear 60 has become the backbone of the JetSelect fleet which now boasts more than a dozen of this type and model of mid-size private jets for personal and business charter.
Jeremy Bogle, Executive Vice President for JetSelect Aviation commented, "We are excited about our continued fleet growth fueled by the hard work we have invested by providing excellent service to our clients as well as the confidence jet owners have placed in our aircraft management services and capabilities. We have experienced strong demand from our Denver and Los Angeles markets and these private jets will further support our ability to service those clients."
JetSelect, LLC d.b.a. JetSelect Aviation is a premium aviation services provider offering On-Demand Private Aircraft Charter, Private Aircraft Management, and Private Aircraft Maintenance to both businesses and individuals. JSA focuses on safety, service, and efficiency; in that order. JetSelect's on demand airplane charter operations are conducted under Title 14 CFR Part 135, FAA approved certificate #U5QA550L. JSA bases their private jets at strategic locations across the United States in order to provide immediate personalized private aircraft charter service from most major cities to anywhere in the world. Learn more about them at http://www.jetselectaviation.com.
###