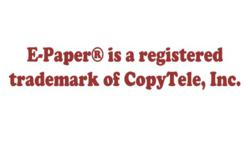 Melville, NY (PRWEB) October 19, 2011
CopyTele, Inc. (OTCBB:COPY) announced today that Mr. Naveen Mandhana, former Senior Vice President, Director and one of the founding team members of Videocon Industries Limited of Mumbai, India, has joined CopyTele, Inc. in the capacity of adviser to the Chairman and Chief Executive Officer. Denis A. Krusos. Mr. Mandhana has more than 30 years experience in consumer electronics, display technology and in facilitating and developing joint ventures. He will focus on strategic planning, technology roadmaps, and application deployment between AUO, Videocon and CopyTele, as well as penetrating new business opportunities for CopyTele in India and the Far East.
As CopyTele previously announced in May, 2011, CopyTele licensed its display technologies for E-Paper and Nano displays to AU Optronics Corp. of Taiwan, a global leader of thin film transistor liquid crystal display (TFT-LCD) panels. In addition, in November, 2007, CopyTele announced that it had licensed its Nano display technology to Videocon Industries Limited, of Mumbai, India, a global business conglomerate with a strong presence in Household Consumer Goods, Oil and Gas, Retail, Telecom, and the Power sector. Videocon has one of the largest distribution networks in India with a nationwide presence.
CopyTele's principal operations include the development, production and marketing of thin flat display technologies, including low-voltage phosphor displays and low-power passive displays, and the development, production and marketing of multi-functional encryption products that provide information security for domestic and international users over virtually every communications media.
Forward-Looking Statements:
Statements that are not historical fact may be considered forward-looking statements within the meaning of the Private Securities Litigation Reform Act of 1995. Forward-looking statements are not statements of historical facts, but rather reflect CopyTele's current expectations concerning future events and results. CopyTele generally uses the words "believes", "expects", "intends", "plans", "anticipates", "likely", "will" and similar expressions to identify forward-looking statements. Such forward-looking statements, including those concerning CopyTele's expectations, involve known and unknown risks, uncertainties and other factors, some of which are beyond CopyTele's control, which may cause CopyTele's actual results, performance or achievements, or industry results, to be materially different from any future results, performance, or achievements expressed or implied by such forward-looking statements. In evaluating such statements as well as the future prospects of CopyTele, specific consideration should be given to various factors, including the following: CopyTele's prior history of losses and negative cash flows from operations; CopyTele's ability to obtain debt or equity financing to continue our marketing, research and development activities, on terms acceptable to CopyTele, if cash generated from operations is insufficient to satisfy our liquidity requirements; CopyTele's ability to commercialize E-Paper® and Nano displays, the possible development of competitive products that could render CopyTele's products obsolete or unmarketable; and other risks as detailed from time-to-time in CopyTele's filings with the Securities and Exchange Commission. CopyTele undertakes no obligation to update any forward-looking statement as a result of new information, unanticipated events, or otherwise.
###