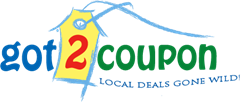 "Free iPads and Money! What could be better?
Orlando, FL (PRWEB) October 19, 2011
Daily deal company Got2Coupon partners with local businesses to offer a variety of huge consumer discounts. Leveraging social networks and traditional marketing techniques, Got2Coupon markets their services in fresh ways that lead to new customers and an increase in sales. Got2Coupon facilitates a meeting of the local community with selected merchants offering a unique online shopping experience. "The business approach combines resident 'feet on the street' with the latest social networking and will continue to evolve to meet the specific needs of each community that is launched." Said Co-founder, Tom Schnarr.
Community members can sign up at Got2Coupon's daily deal website and will get email notifications of available offers. Members purchase online deals and are issued a voucher to redeem at the local venue. Upcoming offers cover a broad spectrum of opportunities including: restaurants, spas, gyms, festivals, fine art, automotive, clothing and even Central Florida attractions.
All of the services are community driven by local community members. David and Kristin Giordani are at the heart of the Central Florida team. They have successfully run multiple businesses in Southern California and Florida and are committed to bring value to the community through: the promotion of local businesses and the use of far reaching advertising to bring both locals and people from all over the country to enjoy and aid the Central Florida economy. "We are delighted to lead the charge in the US and have Orlando as the hub of this innovative business". "I am so happy to bring new business to Central Florida and am very involved in the charitable aspects of giving back to our local communities. I call it a win, win, win for all. A win for the business that advertises for free, a win for the consumer on getting a great daily deal, and a win for the community!" states Kristin Giordani.
The Got2coupon community commitment also includes the 'Thumbs Up' program that provides 1% of all Got2Coupon portions of revenues to local philanthropic endeavors. The program that shall receive the funds will be determined by the community through crowd sourcing techniques followed by a traditional online poll. In addition, Got2Coupon will dedicate 2 specific days to local community fundraising, where all profits will be donated to the organizations selected by the community.
To date,Got2Coupon has given away 5 iPad2's and hundreds of dollars in Got2Coupon bucks. Previous winners include:
Brenda Kinney, Darrell Stefany, David Leithauser, Andrea Guttveg, Lisa Moore, Shannon Carlton, Bill McKinnon, Sara Gunn and Crystal Myers.
The next 100 participants who sign up before October 31, 2011 will receive $10 in Got2Coupon Bucks by entering the code "Get10Free" when registering! Registered users will also earn an additional $5 in G2C Bucks for all referrals.
###