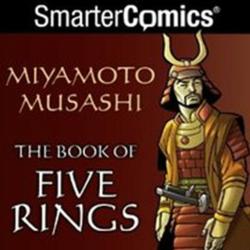 SmarterComics are about the main message of a book. That's why we carefully summarize the original book before preparing the images.
(PRWEB) October 18, 2011
When Miyamoto Musashi first penned The Book of Five Rings, his intentions were to pass down the skills and knowledge he had acquired through years of battle. He wrote this strategic guide not just about fighting literal battles, but about spiritual ones as well. In hopes of influencing future generations of samurai's, Musashi wrote what was to become one of the must read business books of all time.
Although samurai's and businessmen seemingly have very little in common, they both benefit from the wisdom passed down from Musashi. Although the book was written as a literal war guide, it has been interpreted to benefit people from all walks of life.
SmarterComics has taken Musashi's masterpiece and turned it into an 80 page, fully illustrated comic book. They have highlighted the main principles found in the original book, and created a fun, easy-to-read version that appeals to scores of readers for many different reasons.
"SmarterComics are about the main message of a book. That's why we carefully summarize the original book before preparing the images. Illustrating a summary means convenience for our readers. If we illustrated the original text, a 300-page book would result in 2,000 comic pages, which would become very overwhelming. By focusing on the main message, we can create comics that leave readers with a lasting impression," said Frank Arda, CEO of SmarterComics (http://smartercomics.com/).
This innovative approach to storytelling helps to reach new generations of readers. Now, more than ever, people can learn and utilize the lessons found in 'The Book of Five Rings'. After reading the summarized versions by SmarterComics, readers will understand:

How to generate highly organized, yet adaptable plans of action
How to identify, and even create, weak spots in your opponent
When and where to set your plan into action
Why self-reflection is important and how spiritualization can keep you grounded and focused
iPhone users can now download 'The Book of Five Rings' from SmarterComics for $4.99. As a bonus, everyone that downloads 'The Book of Five Rings' will also receive a free iPhone download of Sun Tzu's 'The Art of War' from SmarterComics.
Fans can download this eBook and many more at: http://smartercomics.com/TheBookofFiveRings
About SmarterComics:
SmarterComics is a technology driven publishing company based in the Silicon Valley that turns bestselling books into comic books - comics that make you smarter! The company's award winning illustrators bring talent from prestigious comic companies including Marvel and DC Comics, lending a rich graphical style to the SmarterComics library. Many of their scriptwriters and editors have won awards that are equivalent to the Oscars in the comic genre: the Eisenhower and the Harvey Awards.
###