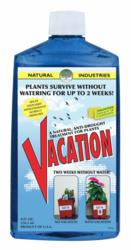 Omaha, NE (PRWEB) October 20, 2011
The Holiday Season is fast approaching, so it's time to deck the halls and decorate the house. The "holiday elves" at http://www.naturehills.com have searched all over the globe to find the newest and coolest home décor and festive trimmings to help usher in the most wonderful time of the year. The selections range from a new way to keep Christmas trees fresh to solar-powered holiday lights.
Keep Christmas Trees Fresh and Green
The smell of a freshly cut Christmas tree infuses a home with holiday spirit, and the beauty of a real tree still cannot be matched by artificial trees. Unfortunately, a fresh tree can require daily watering or it will dry out quickly inside a heated home.
With just one application, a new product called Vacation will keep a Christmas tree fresh throughout the holiday season. Simply mix one 8-oz. bottle of Vacation with one gallon of water and pour the solution into the tree stand reservoir. Once the solution is absorbed through the trunk, Vacation will keep the tree green with less needle drop for up to three to four weeks. (Vacation can also be used on poinsettias and other potted plants.) An 8-ounce bottle of vacation sells for about $14 at garden centers, hardware stores or online at naturehills.com.
Santa Advent Calendar
For more than 100 years, advent calendars have delighted children as they await the arrival of Santa Claus. The playful and functional Santa Advent Calendar comes equipped with 24 hanging ornaments—one for every day in December leading up to Christmas Day. Store the ornaments in Santa's sleigh, and then each day one more ornament can be hung up on the tree. This wonderful advent calendar is constructed of high-quality wood and finely decorated for years of use. In fact, the Santa Advent Calendar is sure to become a treasured family tradition. $59.99 from naturehills.com.
Snowman Mosaic Lantern
The loveable snowman has gone high tech. The Color-changing Snowman Mosaic Lantern is cheery and festive during winter days, but at night he really shines. When night time rolls around, simply turn the mosaic snowman over and turn on the built-in LED light. The mosaic tiles will light up Mr. Snowman, and the bright LED will illuminate with a palette of slowly changing colors. Experience the warm glow of the color-changing Snowman Mosaic Lantern in any room of the house as a nightlight or decoration. Handcrafted with mosaic tiles, the color-changing Snowman is finished with iron top hat, complete with a lantern handle. Great for holiday décor, and it makes a great gift for those hard-to-buy-for relatives or friends. $34.95 from http://www.naturehills.com.
Solar Christmas Lights
The festive look of holiday lighting is now possible without the need for electrical outlets and ugly extension cords. Solar Christmas Lights use ultra-efficient LED lights, not old-fashioned incandescent bulbs. Solar Light Strands save energy because they are powered by the sun. They offer lots of design options, such as lighting up a tree that is hundreds of feet from the nearest electrical outlet. LED Solar Light Strands come in two lengths, 50 or 102 bright LEDS. Each strand has seven (7) different blinking settings. These lights are attractive enough to leave them up all year for patio and deck accents. Available in warm white, red, blue and green. The 50-light strand sells for $24.95 and the 102 light strand sells for $49.95 at naturehills.com.
Ho Ho Ho Coasters
These festive Ho Ho Ho coasters are travertine tiles made in the USA. The permanent image is printed on natural stone tiles that you will enjoy year after year. These coasters are heat, water and weather resistant, so they can be used indoors or out. Each coaster has a cork backing for scratch-free use on tables. Coasters measure 4 inches by 4 inches. Other Holiday Coasters are also available, including a classic Holiday Wreath and a stylish Christmas Tree. A set of four coasters sells for $35.95 at naturehills.com.
Holly LED Light Set
You know the classic Burl Ives song, "Have a Holly Jolly Christmas?" Well, Burl Ives would have loved these Holly LED Christmas Light Set. They are bright, festive AND energy efficient. The cheery holly lights will be a family favorite for years to come. The light strand is 9 feet long with 30 total lights in each strand. $24.99 from http://www.naturehills.com.
Holiday Pot Cover
Here's a great way to make a boring plastic plant pot fun and festive. Just slide a 6" or 6.5" pot into the Holiday Pot Cover and voila—you've got instant Holiday décor. It doesn't get easier than that. Made of sturdy metal, this reusable pot cover will last for years and years. The Holiday Pot Cover measures 7.75" in diameter. $19.99 at naturehills.com.
Christmas Wren Feeder
Don't forget your feathered friends this holiday season. The cheerful Christmas Wren Feeder is a fully functional hanging feeder that is perfect for any backyard. The Christmas Wren Feeder features a pine roof, shuttered windows, removable decorative wreath and scrollwork bottom. The slide-up roof makes it a snap to pour in the seed of your choice. Drainage holes will help keep the inside dry. Shown in red, the Christmas Wren Feeder is also available in White. It measures 7" H x 6" W x 8" D. Available for
$49.99 at naturehills.com.
Winter Lantern with Flameless Candle
The seasonally inspired Winter Lantern lends an old-world ambience to any setting. Each rustic Winter Lantern can be used either indoors or outdoors. The lantern is crafted of ornate metalwork for handsome, timeless appeal. Inside is a battery-powered flameless ivory resin pillar candle that is completely dripless, pet-safe, kid-friendly and waterproof. The candle looks real, but it has high-tech features including a timer that will automatically turn the "flame" on for 4 or 8 hours each evening. (The candle requires 2 C size batteries, which are not included). Shown in the classic Oil-Rubbed Bronze finish, it is also available in white. The lantern measures 4 ¾" W x 4 ¾" D and is 12" high. The Winter Lantern with Flameless Candle sells for $44.95 from naturehills.com.
Need high-resolution JPEGs? Send an email request to schultz(at)schultzpr(dot)com
# # #