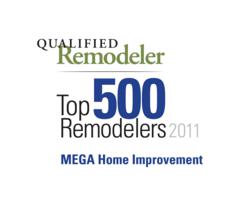 "The fact that we are on this list year after year demonstrates the ongoing quality of our work." Joe Hogel
Algonquin, IL (PRWEB) October 21, 2011
For the 11th straight year, MEGA Home Improvement has been named one of the Top 500 remodelers in the country by Qualified Remodeler magazine. This prestigious honor is the result of an extensive review process that begins with 500,000 candidates and ends with only 500 making the final cut.
"Only one in 1,000 of our candidates is eventually named to this list," says Christina Koch, editor of Qualified Remodeler. "Our editorial staff analyzes each application and verifies information through public records, websites and other sources. The screening is extensive."
The final step in the process is an audit of financial performance by a recognized CPA firm. This determines which 500 remodeling companies in the United States are the highest ranked on a full spectrum of factors.
"Considering the difficult economic conditions facing our nation, MEGA's achievement of rising to the top of this industry is even more remarkable," says John Huff, publisher of the magazine. "You are part of an elite group that has excellent business acumen, a commitment to customer service, insightful sales, innovative techniques and strong customer loyalty."
As an 11-time award winner, MEGA president Joe Hogel says his company has worked hard to receive the recognition, which he believes is well deserved. "The fact that we are on this list year after year demonstrates the ongoing quality of our work," he says. "We are committed to excellence in everything we do, and we believe the same qualities that got us on the list this year will keep us on the list for years to come."
The 2011 award was presented at a reception on October 12 at the Marriott Hotel in Chicago.
###