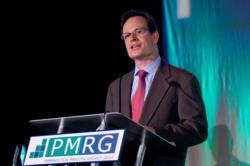 Lexington, Massachusetts (PRWEB) October 18, 2011
Forbes Consulting Group today announced that company Principal Dr. Jeremy Pincus was honored with the coveted Marketing Researcher of the Year Award by the Pharmaceutical Marketing Research Group (PMRG) at the institute's Fifth Annual Meeting being held this week in Jersey City, New Jersey. Pincus was presented with the award during the Awards' Ceremony and Dinner Monday evening. Recipients must demonstrate leadership, business impact, research innovation and commitment to healthcare market research to be considered for the award.
Dr. Pincus has spent much of the past year working with the U.S. Department of Health & Human Services, advising them on the use of market segmentation in order to improve awareness and education programs. He also oversaw the implementation of segmentation algorithms into both qualitative and quantitative research, and demonstrated the value of reporting results by segment. Pincus has also served as an advisor on segmentation and segment-based communication to the Assistant Secretary for Planning and Evaluation (ASPE) and the Federal Office of Personnel Management, and has presented segmentation results to three Congressional committees.
"I am very honored to be selected as the recipient of this year's award," said Dr. Jeremy Pincus, Principal and Quantitative Leader of Forbes Consulting Group. "I am also proud to be the first vendor-side researcher that PMRG has chosen to receive this accolade."
Each Fall, PMRG honors those who have made considerable contributions to the Pharmaceutical Marketing Research Community through his/her involvement with PMRG. The award was created in 2008 to recognize an individual who has demonstrated a positive and meaningful impact on Healthcare Market Research. The PMRG Executive Committee votes on the recipient.
About Dr. Jeremy Pincus, Ph.D
Dr. Pincus holds a doctoral degree in Social Psychology from the University of Connecticut. His experience covers a broad spectrum of research in strategic support of consumer and business-to-business marketing, with concentrations in brand equity, market segmentation, consumer motivation and emotion, and new product development. He was elected a Fellow of the Employee Benefit Research Institute (Washington, D.C.) in 1997. Dr. Pincus is a founder and co-chairman of the LTC industry's Baby Boomer Task Force, dedicated to promoting financial and health preparedness, and is a member of the Washington-based think tank, the Long-Term Care Financing Strategy Group.
About Forbes Consulting Group
Based in Lexington, Massachusetts, the Forbes Consulting Group (http://www.forbesconsulting.com) is a strategic, full service market research company providing clients with deeper levels of insight about needs and motivations – and helping them gain strategic market advantage on the strength of this insight. The company was founded in 1985 to pursue the application of psychological theory and analysis to the solution of strategic business problems. Over the past 25 years, the Forbes Consulting Group has become a valued resource for Fortune 500 companies nationwide.
About the Pharmaceutical Marketing Research Group
Founded in 1961, PMRG is the leading healthcare marketing research professional association serving U.S. and global client researchers and service providers representing pharmaceuticals, biologies, medical/surgical device and diagnostics. The PMRG advances the principles, practice and power of healthcare marketing research by creating a community that both supports individual professional development and acts as an advocate for the profession as a whole.
###