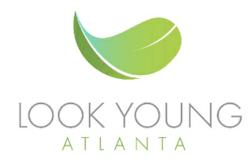 We're so excited to celebrate our grand opening & give back to the Midtown Atlanta community.
Atlanta, GA (PRWEB) October 19, 2011
Midtown's Look Young Atlanta is opening its doors on Thursday, October 20, 2011, with a red-carpet event from 7-10 p.m. The med spa and laser hair removal clinic is a full service spa specializing in laser hair removal treatments. Their Official Grand Opening Party will be a truly memorable event, complete with cocktails, light appetizers and $10,000 worth of laser hair removal treatment giveaways.
100 lucky visitors in attendance Thursday will receive $100 off any laser hair removal treatment.
Owners Jodi Bell and Nathan Woodard-Persily are avid supporters of their community and wanted to open a med spa in their own neighborhood. They felt their clinic needed to appeal to the LGBT community, so that no matter one's sexual orientation, be it straight, gay, transgendered, or transsexual, everyone's needs are considered and met.
Owner Nathan Woodard-Persily says, "We deal with sensitive and personal issues that are different for everyone, and we want to respect our clients' needs whatever they may be."
The owners have successfully recruited great talent for their vision. Dr. Jim Lingle has 15 years of experience in medically supervised weight loss, dermal fillers, and laser hair removal. He also offers his expertise in acupuncture and anti-aging treatments to Look Young Atlanta.
"We are extremely pleased to be helping people with their sensitive issues and believe we'll make a great addition to the community," Bell says.
The long awaited Grand Opening celebration is located at 165 6th Street Atlanta, GA 30308, on October 20, 2011 from 7 p.m. to 10 p.m. Join the Look Young Atlanta family for drinks, enticing tunes from DJ Travis and delicious bites from Alon's European-style Bakery Market.
Guests are encouraged to bring friends and family. This is a public event and is a great chance to meet the owners, tour the exclusive spa, and network with other professionals.
For more information, visit http://www.lookyoungatlanta.com or call 404-239-3911 to schedule an appointment.
###