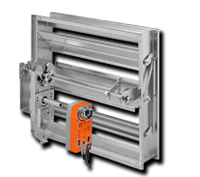 "What would have taken hours, took minutes," said Andy Cummings of Southland Industries.
Danbury, Connecticut (PRWEB) October 24, 2011
Belimo Americas, the leading producer of electronic control valves and air damper actuators, has introduced a new linkage designed to facilitate the attachment of select Belimo actuators to a damper's jackshaft.
The ZG-JSL linkage simplifies typical installations and eliminates the difficulties where jackshaft bearings are hard to access. The ZG-JSL linkage has a built-in shaft which allows the direct coupling of Belimo actuators. The anti-rotation plate enables the installed actuator to be rotated 90 degrees for space saving applications. By improving the method of installing actuators onto jackshafts, the installer saves on installation time translating into a cost savings. The quicker the install, the sooner the installer can move on to the next project. Now with the ZG-JSL linkage all jackshaft installations will only take minutes!
Belimo Americas., the pioneer of direct-coupled damper actuators specializes in damper actuator and control valve technology for the HVAC industry. For over 30 years, Belimo has provided innovative control solutions to customers throughout the United States, Canada and Latin America, all of which are backed by Belimo's unsurpassed 5-year warranty. For more information, contact Belimo at 1-800-543-9038 or visit the website at http://www.belimo.com.
###