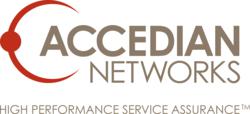 Accedian Networks, and all the Technology Fast 50™ winners in 2011, have shown a remarkable drive for creativity and innovation, and of course growth, particularly when you look at their accomplishments in the context of current economic challenges
Montreal, Quebec (PRWEB) October 19, 2011
Accedian Networks™, announced today its inclusion in the prestigious Deloitte Technology Fast 50™ and Fast 500™—both programs rank the fastest growing technology, media, telecommunications, life sciences and clean technology companies in Canada and North America respectively. Based on a 50,136% fiscal year revenue growth during the period from 2006-2010, Accedian ranked 1st on the Technology Fast 50 in Canada, and 2nd on the Technology Fast 500 in North America. The Company was also recognized with Deloitte's Telecom Leadership Award. Accedian is the number one provider of High Performance Service Assurance™ solutions for Carrier Ethernet backhaul networks in North America with an installed base of over 75,000 cell sites, and 90,000 platforms sold worldwide.
"Accedian Networks, and all the Technology Fast 50™ winners in 2011, have shown a remarkable drive for creativity and innovation, and of course growth, particularly when you look at their accomplishments in the context of current economic challenges," said Richard Lee, National Leader, Technology, Media & Telecommunications Industry Group, Deloitte. "Accedian Networks is an example of the determination, drive and skill that will serve to position them for further growth and success in the years to come."
"We're pleased to honour Accedian Networks as one of the 2011 Technology Fast 500™," said Mark Jensen, managing partner, technology and venture capital services, Deloitte & Touche LLP. "As one of the fastest growing tech companies in North America, Accedian has demonstrated that its technological innovation and entrepreneurship have indeed resulted in the company's hyper growth. Deloitte congratulates Accedian for this significant achievement."
For 14 years, the Deloitte Technology Fast 50™ program has tracked the successful growth of Canadian-grown global leaders. Now Canada's pre-eminent technology award program, the Deloitte Technology Fast 50™ augments the broader Deloitte North American Technology Fast 500™ initiative, with winners automatically eligible for this elite ranking. The Technology Fast 500 program recognizes companies that have innovated, overcome obstacles and systematically defied the odds in its annual ranking of the 500 fastest-growing technology companies in the United States and Canada. Both programs are based on percentage revenue growth from 2006 to 2010, recognize all areas of technology and include both public and private companies.
"This recognition is another exciting milestone for Accedian, and we're extremely honoured to be included on both these prestigious lists," said Patrick Ostiguy, President & CEO of Accedian Networks. "As a company we have remained focused on providing operators and service providers with solutions to help them fully optimize the performance of their Carrier Ethernet backhaul networks. Our growth is a reflection of this focus, exceptionally strong leadership from our executive team, and the dedication, insatiable desire to innovate, and ingenuity of a talented pool of employees."
Earlier this month, Patrick Ostiguy was also named as Ernst & Young's 2011 Quebec Entrepreneur of the Year in the Technology Solutions category.
For additional detail on the Technology Fast 50™ or Fast 500™, including selection and qualifying criteria, visit http://www.fast500.com or http://www.fast50.com.
About the Deloitte Technology Fast 50™
The Deloitte Technology Fast 50 TM program is Canada's pre-eminent technology awards program. Celebrating business growth, innovation and entrepreneurship, the program features four distinct categories including the Technology Fast 50™ Ranking, Companies-to-Watch Awards (early-stage Canadian tech companies in business less than five years, with the potential to be a future Deloitte Technology Fast 50™ candidate,) Leadership Awards (companies that demonstrate technological leadership in four industry subcategories: hardware/semiconductor, software, telecommunications and emerging technologies) and the Deloitte Technology Green 15™ Awards (Canada's leading GreenTech companies that promote a more efficient use and re-use of the earth's resources in industrial production and consumption.) Program sponsors include Deloitte, Gowlings, Wellington Financial, TMX Group, HKMB Hub International, National Angel Capital Organization, CVCA, MaRS and IGLOO Software. For further information, visit http://www.fast50.ca.
About Accedian Networks
Founded in 2004, Accedian Networks™ is an industry-leading provider of High Performance Service Assurance™ solutions for Carrier Ethernet and IP networks. Today, the Company is the number one provider of performance assurance solutions for Carrier Ethernet backhaul networks in North America with an installed base of over 75,000 cell sites, and 90,000 platforms sold worldwide. The Company's hardware-based EtherNID® , MetroNID® and MetroNODE 10GE™ demarcation and OAM aggregation devices provide service creation and high-speed, high-performance service assurance for Ethernet business, wholesale access, and carrier exchange services. These purpose built service demarcation devices—which far outperform more costly switches, routers and test equipment— enable service providers to establish end-to-end, standards-based OAM over converged multi-technology and multi-provider networks, with value-added services backed by assured SLAs. Accedian's platform is deployed by a global customer base that includes telecommunications providers, cable MSOs and mobile operators offering carrier-grade Ethernet platforms. A privately held company, Accedian Networks is headquartered in Montreal, Canada, with regional offices in the U.S., Europe, Latin America, Middle East and Asia. For additional information, please visit: http://www.accedian.com, or call 1-866-685-8181 or +1 (514) 331-6181.
###