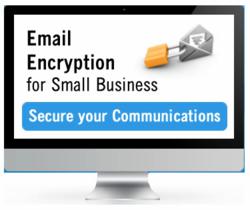 EncryptSender now makes it both Easy and Affordable for Small Businesses to send Encrypted Emails for greater data protection and compliance.
Austin, TX (PRWEB) October 20, 2011
Trinsic Technologies today released EncryptSender, an extremely affordable and simple-to-use email encryption gateway service for the small to mid-sized business (SMB) market. With a price point starting at only $2.00 per email account per month, EncryptSender now enables even the smallest of organizations to protect their email communications.
Businesses both large and small are facing higher demands for maintaining secure data communications and ensuring the confidentiality of customer and personally identifying information. One of the reasons for this is the increase in successful malicious hacking attacks targeting confidential information. According to a recent survey conducted by the Ponemon Research Institute and Juniper Networks, 90% of companies suffered a computer hack in the past 12 months alone.
Furthermore, businesses of all sizes are required to comply with a multitude of recent state and federal laws passed relating to securing confidential and personally identifying information. Some of these regulations include Gramm-Leach-Bliley Act (GLBA), Health Insurance Portability and Accountability Act (HIPPA)/HITECH Act, Sarbanes Oxley Act (SOX), Payment Card Industry Data Security Standard (PCI). In many cases, the penalties for non-compliance can be shockingly high.
"After looking at the market, we saw that it was unnecessarily expensive and over-complicated for smaller organizations to implement a basic email encryption solution. EncryptSender is an affordable gateway-to-destination encryption service that enables organizations to include this added layer of protection and compliance. For as low as only $2.00 per account, you can add email encryption to your current email solution," says Powell. "EncryptSender is ideal for smaller organizations that are subject to privacy regulations such as HIPPA because it is extremely affordable and requires no additional investment in hardware or software to install on the client side," says Powell. .
EncryptSender is available in either a Lite or Enterprise plan. With the Lite version, users can send an encrypted email on-demand at the user's discretion. With Enterprise, organizations have more customization options and a higher level of control at the enterprise level such as enforcing company-based email encryption policies.
"For organizations interested in how they can better protect their company data, we would be happy to discuss with them their current situation and whether or not this would be a good fit for them based upon their overall data security goals," says Powell.
For more information, please visit http://www.EncryptSender.com.
About Trinsic Technologies, Inc.
Trinsic Technologies, Inc., based in Austin Texas, is a provider of affordable flat-fee managed IT services for small and medium sized businesses. For Trinsic's target market, it is often neither practical nor affordable to internally staff their own IT department. Through Trinsic's managed IT services, clients have access to a fully staffed IT department at a fraction of the cost, and receive a comprehensive suite of infrastructure management services including desktop and server support, network security, data backup protection, email, encryption and mobility services. This full-featured service enables its clients to focus their resources on growing their business, not on managing their technical IT issues. Through this model, clients benefit from faster time-to-resolution, broader expertise, reduced risk, and a more stable, robust and secure computing environment, all at a lower overall cost than traditional in-house support.
###