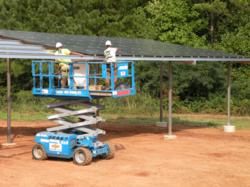 We love this project because it challenges us to think about land use, climate change and where our food comes from, all at the same time.
Pittsboro, NC (PRWEB) October 19, 2011
Miraverse Power and Light, Piedmont Biofuels, Southern Energy Management, and Piedmont Biofarm are pleased to announce the ground breaking of their "Solar Double Cropping" project in Pittsboro, North Carolina.
The endeavor consists of an elevated 92.16 kilowatt solar array that will generate electricity above the north field of Piedmont Biofarm, while sustainable produce is harvested at the ground level. The nine-foot clearance of the solar photovoltaic system is designed specifically to encourage growing crops that thrive in partial shade.
"Double Cropping is a term we borrowed from the wind industry," said Lyle Estill, co-founder of Piedmont Biofuels, and originator of the project. "We intend to demonstrate the ability to make electricity and grow food in the same space at the same time."
Estill noted that in some jurisdictions, solar installations are being banned on prime farmland. "We need clean energy. And we need sustainable food," Estill said. "This installation will enable both."
Financing for the project has been provided by Michael and Amy Tiemann, who recently opened Manifold Recording, a world-class recording and production facility in Chatham County. "The vision for this facility has always been based around sustainability. When we began calculating the energy required to run this facility, we simultaneously envisioned how we could fit that into an overall sustainability plan. Of all the options we considered, solar double-cropping was far and away the simplest, fastest, and best approach to meeting our energy needs without diminishing the rich agricultural potential of Chatham County. What good is sustainable energy without sustainable agriculture?" said Tiemann.
Michael Tiemann also sits of the Board of Advisors for the Center for Environmental Farming Systems and has a keen interest in both renewable energy and local food. He created Miraverse Power and Light as an entity for this endeavor.
Doug Jones, the owner of Piedmont Biofarm, has been experimenting with partial shade crops for the past two growing seasons and will be farming beneath the array. "As our agricultural zone changes, there are some vegetables that will benefit from some protection from the sun," Jones said.
The 288-panel system is being installed by Southern Energy Management (SEM), a Morrisville-based company well known for utility scale solar arrays. "We love this project because it challenges us to think about land use, climate change and where our food comes from, all at the same time," said SEM co-founder Maria Kingery. "This is the kind of project that made us want to get into the solar business in the first place and we hope to see many more projects like this in the future."
A ribbon cutting for the array will be held at Piedmont Biofuels Eco-Industrial Park at 4 pm on November 4th. The public is welcome to attend.
This Solar Double Cropping project represents two years of planning, design, and engineering that resulted in a formal docket assignment by the North Carolina Utilities Commission.
Media contacts:
Chris Cowperthwaite, SEM - chris(at)southern-energy(dot)com 919-836-0330 ext. 129
Lyle Estill, Piedmont Biofuels - lyle(at)biofuels(dot)coop 919-321-8260
About Southern Energy Management
Southern Energy Management is a North Carolina-based sustainable energy company offering energy efficiency, green building and turn-key solar services for homeowners, builders, companies, government and military clients across the Southeast, Mid-Atlantic and Northeast. A certified B Corp, SEM's mission is to have a measurable impact on reducing greenhouse gas emissions that contribute to climate change, and to build a sustainable triple-bottom-line company. SEM was founded in a living room in Raleigh in 2001, and now employs a team of about 100 sustainable energy professionals. SEM is consistently recognized as an industry leader both locally and nationally, and is among a small handful of companies in the U.S. to earn the National Energy Star Partner of the Year award five times (in 2007, 2008, 2009, 2010 & 2011). SEM also received the City of Raleigh 2011 Environmental Stewardship Award and the 2010 Green Jobs Award from SJF Institute & Green For All. For more information, visit http://www.southern-energy.com.
# # #