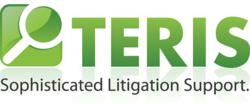 Meghan's interest and expertise in the evolving best practices for eDiscovery makes her an important addition to our team.
Palo Alto, CA (PRWEB) October 19, 2011
TERIS Bay Area announced today that it has hired Meghan Brosnahan as its Discovery Consultant for the Bay Area Region. In assuming this new position for the company, Brosnahan will be responsible for leading sophisticated electronic discovery projects, from identification and hold through production. She will also serve as an expert consultant to TERIS's growing number of clients on review workflow and eDiscovery best practices Brosnahan will provide guidance in all phases of the discovery lifecycle to maximize the efficiencies provided by TERIS's custom technology solutions.
Ms. Brosnahan brings to TERIS extensive experience working in eDiscovery and emerging technology start-ups, as well as managing critical client relationships. As TERIS Bay Area continues to see a dramatic increase in its eDiscovery business in California in 2011, Brosnahan will team with Ian Bagger to continue to improve all client service offerings for TERIS's growing business.
"Meghan's interest and expertise in the evolving best practices for eDiscovery makes her an important addition to our team," said Kevin Brooks, Executive Vice President, TERIS Northern California. "TERIS knows and understands the increasing demands facing our clients in the eDiscovery world. This is why we're committed to providing the highest quality services and professionals. We'll continue to make significant investments in both technology and people because we know this trend is only going to accelerate."
Brosnahan has more than 15 years professional experience and a solid technology background. She has the cross-disciplinary skills vital to the successful completion of eDiscovery projects (including logistics, project management, eDiscovery platform expertise, a solid understanding of the litigation process, and eDiscovery best practices). She's also proficient in the EDRM model and developing case law related to electronic discovery.
Meghan is a graduate of the University of Texas, Austin and earned her JD from Cornell Law School.
ABOUT TERIS
Founded in 1996, TERIS provides legal support and sophisticated eDiscovery solutions to corporate legal teams and law firms across the U.S. and internationally. TERIS' staff of over 300 was named one of the top 20 eDiscovery service providers by industry researcher Socha-Gelbmann in 2008. The company has offices in Seattle, San Francisco, Silicon Valley, San Diego, Phoenix, Austin, Dallas, Houston and Chicago. To learn more about TERIS, visit http://www.TERIS.com or follow the company on Twitter at Twitter.com/DiscoverTERIS or Facebook (Facebook.com/TERIS).
Media Contact: David Kaufer, 425-275-8814 (mobile); 206-521-8717 (office) or DKaufer (at) TERIS.com
# # #