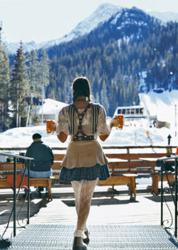 We're proud of the new stage and our seasonal menu which reflect our dedication to giving our guests and unforettable ski experience in the Taos Ski Valley. --Bavarian owner Jamie Schulze, with her husband Thomas Schulze
Taos Ski Valley, NM (PRWEB) October 19, 2011
With the recent addition of a new stage, the Bavarian Lodge & Restaurant announces a winter season full of live entertainment and special dining experiences for the guests of its European-styled Lodge. Located at the base of the stunning Kachina Peak, the Bavarian is the epitome of ski-in/ski-out luxury.
"This season promises great snow and fantastic offerings from the Bavarian," says Jamie Schulze, who owns the Lodge & Restaurant with her husband, Thomas Schulze. "We're proud of the new stage and our seasonal menu which reflect our dedication to giving our guests an unforgettable ski experience in the Taos Ski Valley."
New Stage and Live Entertainment:
Located directly next to the outdoor deck, the Bavarian's new 24 ft. x 16 ft. stage will be booked for the winter season with a variety of entertainment including jazz and chamber music. The Bavarian's regular disc jockey, D.J. Little Will spins rap, hip-hop and rock every Saturday depending on the weather, and on the Sundays of Holiday Weekends, including Christmas, New Year's and Spring Break.
Taos Ski Valley's Godie Schuetz's Swiss Fondue Night Menu (3 course):
The Bavarian's rich Fondue menu includes recommended wine pairings and is $29.50 for the Cheese Fondue and $38.75 for the Beef Bourguignonne Fondue every Tuesday starting January 3, 2012. Named after Swiss-born Gottfried A. "Godie" Schuetz, the 35 year veteran ski instructor and friend of Taos Ski Valley's founder, Ernie Blake, the Bavarian's cheese fondue reflects the lodge's connection with the Alps.
Swiss Cheese Fondue (2 people or more)
1st Course: Alpine Salad Organic mixed-greens tossed in balsamic-tarragon vinaigrette and sautéed sausages 2nd Course: Cheese Fondue Three different Swiss cheeses: Gruyere, Emmenthaller, & Appenzeller according to Godie's recipe
3rd Course: Special "Surprise" Dessert
$29.50 per person
Beef Bourguignonne (2 people or more)
1st Course: Alpine Salad Organic mixed-greens tossed in balsamic-tarragon-vinaigrette and sautéed sausages
2nd Course: Fondue Bourguignonne Diced beef tenderloin served with sauce Béarnaise, Horseradish, and curry sauce, roasted potatoes and baked tomato
3rd Course: Special "Surprise" Dessert
$38.75 per person
Wine Pairings
Cheese Fondue Chablis Fume' Blanc Gruener Veltliner, (Austria) Fendant du Valais, (Switzerland) Chardonnay
Beef Fondue Cabernet Sauvignon Beaujolais Barolo or Brunello Chateauneuf du Pape Burgundies & Bordeaux
Holiday Offerings:
Christmas caroling on the new stage will begin in December (for details visit http://www.thebavarian.com) and a hot chocolate bar will be offered on the Saturdays of holiday weekends, including sweet treats for little ones. S'mores will be offered around the campfire and chocolate fondue will be available every night but Tuesday.
Winter Wine Festival:
The Bavarian Restaurant will also be part of the Grand Tasting of the annual Taos Winter Wine Festival, featuring more than 150 different wines from 30 participating wineries and tastes from a dozen of Taos and Taos Ski Valley's finest restaurants. The Grand Tasting January 25 through January 28, 2012 more information can be found on taos.org.
About The Bavarian
The Bavarian Lodge and Restaurant is located about 30 minutes above the ancient, multicultural town of Taos (http://www.taosguide.com) and is co owned and operated by the husband and wife team of Thomas and Jamie Shultze. The Bavarian Lodge will offer high alpine wilderness living and world-class skiing in extreme comfort at the end of a 4-wheel drive mountain road. In summer, a resident at the Bavarian can enjoy nature hikes among wildflowers and later mushrooms to alpine lakes, rafting the Rio Grande, great trout fishing, and rock climbing. (http://www.thebavarian.com)
Taos Ski Valley lies within the Kit Carson National Forest. The Bavarian (elevation 10,200ft) is at the top of the valley, facing Kachina Mountain. Only great ski terrain and the pristine Wheeler Peek Wilderness Area lay beyond the Bavarian.
About Taos Ski Valley (http://www.skitaos.org)
Taos Ski Valley is known for extremely dry powder, some of the world's finest lift-accessible steeps, average snowfalls in excess of 300+ inches per season and abundant sunshine of the Southern Rockies, with 300+ days of annual sunshine. The skiing is consistently ranked amongst the nation's top resorts. The ski school, dubbed "mythic" by MSNBC, is widely acclaimed as among the best in the world. It is often the case that lift lines are nonexistent.
FOR MEDIA INQUIRIES please contact Jennifer Padilla at JLH Media:
jpadilla(@)jlhmedia.com
###