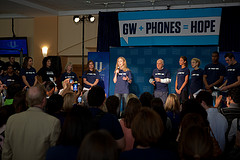 Washington, D.C. (PRWEB) October 18, 2011
Hundreds of George Washington University students and employees lined up today to donate their used cell phones to support maternal and child programs abroad. GW also announced its commitment today to improving the health of local families in the Washington, D.C. community through a new partnership with the National Healthy Mothers, Healthy Babies Coalition and its text4baby program.
The university held the "GW + Phones = Hope" kick-off rally today as part of a university-wide campaign to collect 20,000 used cell phones by March 2012. GW announced the commitment on Oct. 6 as host of the 2012 Clinton Global Initiative University (CGI U) Meeting in March. GW will collect the used cell phones and other portable electronic devices and work with an organization called Hope Phones to recycle them. The proceeds from the recycling program will go to fund maternal and child mobile technology health projects in the Democratic Republic of the Congo and Nepal.
"By making this pledge in the spirit of the Clinton Global Initiative, we are answering President Clinton's challenge to make a difference in the world," said George Washington University President Steven Knapp. "This collection drive will enable us to improve maternal and child health not only in developing countries, but also in the District of Columbia, which has one of the highest infant mortality rates in this nation."
Special guest speakers at today's rally included Chelsea Clinton, William J. Clinton Foundation board member, and Christy Turlington Burns, founder of Every Mother Counts, an advocacy and mobilization campaign to increase education and support for maternal and child health. In addition, ABC News' Emmy-award winning journalist Juju Chang, Kathy Calvin, CEO of the United Nations Foundation, and Tierney O'Dea, campaign manager for Hope Phones also spoke at the rally.
Phones and other portable electronic devices can be donated by downloading a pre-paid mailing label at http://www.gwu.edu/donate-phones/ or at designated collection sites at the following locations beginning Wednesday, Oct. 19 through March 30:

GWorld Office on the ground floor of Marvin Center, 800 21st Street, NW, Washington, D.C. 20052
The Faculty and Staff Service Center in Rice Hall, 2121 Eye St. NW, Washington, D.C. 20052
Virginia Science & Technology campus Library, Enterprise Hall, Room 179, 44983 Knoll Square #179, Ashburn, Va. 20147
In addition to addressing maternal and child health concerns abroad, the university also will extend its efforts to the local D.C. area. GW's School of Public Health and Health Services (SPHHS) is partnering with National Healthy Mothers, Healthy Babies Coalition to support enrollment in text4baby, a free text messaging program that provides timely health information to women via their cell phones starting in pregnancy and extending through their babies' first year. GW students working under the direction of Dr. Amita Vyas will design and implement an outreach strategy to promote and enroll Washington, D.C., families in the greatest need in the text4baby service. GW will recruit volunteers throughout its university community to participate in the local outreach efforts. To volunteer, visit http://www.gwu.edu/donate-phones/.
"GW has a long tradition of service and a passion for giving back to our local, national and global communities," said Lynn Goldman, dean of the School of Public Health and Health Services. "Now, through partnerships with Hope Phones and with the National Healthy Mothers, Healthy Babies Coalition, our students and faculty will help raise awareness and bolster enrollment for important resources that will help mothers and families in our community and across the world raise healthy babies."
In the heart of the nation's capital with additional programs in Virginia, the George Washington University was created by an Act of Congress in 1821. Today, GW is the largest institution of higher education in the District of Columbia. The university offers comprehensive programs of undergraduate and graduate liberal arts study, as well as degree programs in medicine, public health, law, engineering, education, business and international affairs. Each year, GW enrolls a diverse population of undergraduate, graduate and professional students from all 50 states, the District of Columbia and more than 130 countries.
About the Clinton Global Initiative
Established in 2005 by President Bill Clinton, the Clinton Global Initiative (CGI) convenes global leaders to devise and implement innovative solutions to some of the world's most pressing challenges. Since 2005, CGI Annual Meetings have brought together nearly 150 current and former heads of state, 18 Nobel Prize laureates, hundreds of leading CEOs, heads of foundations, major philanthropists, directors of the most effective nongovernmental organizations and prominent members of the media. These CGI members have made more than 2,100 commitments, which have already improved the lives of nearly 400 million people in more than 180 countries. When fully funded and implemented, these commitments will be valued in excess of $69.2 billion. For more information, visit http://www.clintonglobalinitiative.org/.
About CGI U
The Clinton Global Initiative University (CGI U) challenges college students to address global issues with practical, innovative solutions. CGI U members do more than simply discuss problems – they take concrete steps to solve them by building relationships, creating action plans, participating in hands-on workshops and following-up with CGI U as they complete their projects. Their efforts have culminated in approximately 3,000 Commitments to Action. Previous CGI U meetings have taken place at Tulane University, the University of Texas at Austin and the University of Miami, and have convened more than 3,500 students from 641 schools in 110 countries and all 50 states. The fifth annual CGI U meeting will be held at the George Washington University in Washington D.C. from March 30 – April 1, 2012. To learn more, visit http://www.cgiu.org/Default.asp.
About Hope Phones
The Hope Phones campaign began in 2009 as an innovative way to fund the global efforts of Medic Mobile, the parent organization that advances healthcare in 15 countries with mobile technology. Half a million cell phones are discarded in the United States every day and pollute the environment with tons of plastic and persistent toxins. Cell phone recycling through Hope Phones reduces hazardous waste in our communities responsibly, while providing a real public health benefit abroad. If Hope Phones can recycle just 1% of disposed phones each year, we can outfit 1 million health workers, improving the lives of 50 million people. For more visit http://www.hopephones.org.
About Every Mother Counts
Every Mother Counts is an advocacy and mobilization campaign to increase education and support for maternal and child health. Every Mother Counts seeks to engage new audiences to better understand the challenges and the solutions while encouraging them to take action to improve the lives of girls and women worldwide. The keystone of the campaign is http://www.everymothercounts.org, an interactive platform providing the tools to raise awareness, education and action. To date, Every Mother Counts supporters have gathered 15,000 cell phones for Hope Phones to help equip the Democratic Republic of Congo.
###