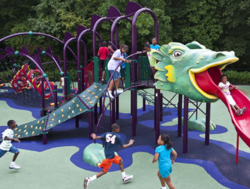 Delano, MN (PRWEB) October 20, 2011
Within the past decade, there has been increased use of decorative or architectural concrete throughout communities. Landscape architects and other designers use colored, stamped and stained concrete for floors, walkways, patios and many other architectural elements because it offers a broad palette for creativity. Concrete playgrounds are also gaining popularity.
The use of concrete in playgrounds is appealing to project planners because it can be molded into any form to help create imaginative and unique play equipment components. Concrete playgrounds provide an opportunity to introduce a variety of textures and colors to children on the playground. Landscape Structures Inc., a Delano, Minn.-based commercial playground equipment manufacturer, makes impressions of materials such as tree bark, rock, fur and feathers into concrete to create a real-life look and feel for its concrete playground components. Traditional play equipment becomes an outdoor adventure when a slide turns into a dragon's tongue, a tunnel becomes a hollowed-out log and climbers turn into scalable boulders.
Themed concrete playgrounds are just as safe as any traditional playground equipment when manufacturers adhere to the safety standards set forth by organizations like the International Play Equipment Manufacturers Association (IPEMA). Additionally, it's important to know where your concrete playground components will be manufactured. Landscape Structures has an ISO 9001-certified facility in which its concrete playgrounds are manufactured, which ensures that they will be high-quality, strong and last for many years. Learn more about Landscape Structures' themed concrete playground designs.
###