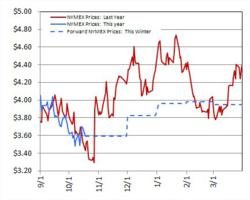 Natural gas prices have been following last year's price trends. If that continues, natural gas prices will likely stage a significant rally in the near future.
Verona, WI (PRWEB) October 19, 2011
Energy Solutions, Inc., an educational provider of natural gas price information and price trends, has issued a Natural Gas Price Alert to notify natural gas buyers of a potential price trend change. These valuable Alerts are issued when there is something happening in the natural gas industry or something that is anticipated to happen that has the potential to change or impact natural gas prices.
Similar to last year, bearish fundamentals have pushed natural gas prices to new calendar year lows. Storage inventories are expected to surpass 3,800 Bcf by the start of winter. According to the Energy Information Administration, natural gas production levels in the Lower 48 states are 5.33 Bcf/day or 8.3 percent higher than one year ago. Moderating temperatures have eased demand for natural gas for heating or cooling needs, and the pace of economic recovery continues to be sluggish. As a result, since October 7, 2011, the front-month natural gas New York Mercantile Exchange (NYMEX) contract price has on four occasions fallen to below $3.50 per MMBtu. However, after each occasion, a quick and significant price rally occurred. This is a warning sign that speculative players are waiting to push natural gas prices higher and will likely do so on any sort of bullish data.
Valerie Wood, President of Energy Solutions, Inc. points out that history also indicates that after the fall price low has been reached, natural gas prices will rally even if the fundamentals of supply and demand argue otherwise. Last year, the front-month natural gas NYMEX contract price hit a fall price low of $3.212 per MMBtu on October 27, 2010. Even though natural gas storage inventories reached an all-time peak of 3,843 Bcf in November 2010, a price rally still occurred. On January 24, 2011, the front-month natural gas NYMEX contract price climbed to a high of $4.879 per MMBtu. "The current environment for natural gas is similar to the one that existed last year, so buyers should be preparing for similar price action this winter," said Wood.
Energy Solutions, Inc. specializes in helping end use businesses develop and implement cost effective natural gas risk management strategies that protect profit margins and eliminate budget variances. This recently issued one-page Natural Gas Price Alert urges natural gas buyers, particularly large end use businesses, to be proactive during this current time of natural gas price weakness.
To learn more about the recommended purchasing actions to implement, click here to view this recently issued Natural Gas Price Alert, contact Valerie Wood directly at (608) 848-6255, or visit our website at http://www.energysolutionsinc.com.
About Energy Solutions, Inc.
Formed in 1996, Energy Solutions, Inc. is independently owned. With combined experience of more than 50 years in the natural gas industry, our team focuses on helping businesses better understand the natural gas industry in order to improve their competitive edge.
###