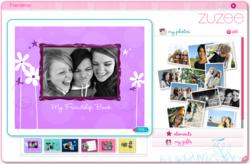 We designed Zuzee just for tween girls, offering a much-needed, hands-on venue for expanding their creativity while letting them spend time with their friends in an online environment that's safe
VANCOUVER, B.C. (PRWEB) October 19, 2011
Zuzee Interactive, Inc. today unveiled Zuzee.com, a creative online community developed specifically for tween girls where they can share photos, connect with friends, and create lasting memories. Designed to inspire tweens and assure parents, Zuzee was created specifically with its members' wellbeing in mind by incorporating robust parental controls to ensure maximum safety and privacy during use. While the basic membership is free, starting today an expanded, all-access pass to Zuzee is available for free for a limited time so all tweens can join the fun, upload their photos, and explore the full library of design activities.
Zuzee provides a meaningful place online for girls to express their creativity and share it with friends. No matter their artistic ability they'll be proud of the beautiful designs they can create and fun stories they can share using Zuzee. The site inspires tweens to think creatively, and design and share memories with their friends in a fun, collaborative and lasting way.
How Zuzee Works

Design: Tweens turn their favorite pictures into dazzling displays by uploading their photos, selecting a book, card or collage project, and getting creative.
Explore: Each month, Zuzee adds new design templates covering popular themes such as friendships, birthdays, pets, holidays, mom & me, and more. Plus there are interactive quizzes, virtual gifts, icons, and more to enjoy.
Share: Connecting with friends is part of the fun. Members can share books and cards, collaborate on designs, and comment on each other's projects.
"After years in the technology arena and now as parents, we recognized that self expression and online interaction are an important part of the tween experience, yet virtually no site offered tweens a meaningful place to be creative and share in a safe setting," said Shelley Voyer, president of Zuzee Interactive, Inc. "We designed Zuzee just for tween girls, offering a much-needed, hands-on venue for expanding their creativity while letting them spend time with their friends in an online environment that's safe."
What Makes Zuzee Safe
Online safety and privacy are top concerns for parents. Zuzee was designed with parental controls that enable parents to fully monitor and determine what their kids can do on the site. Zuzee uses an invitation-only approach; friends can't be added and designs or photos can't be shared without parent consent first.
Joining Zuzee
The basic membership is free and lets users build a profile, upload photos, and get creative with Zuzee's inspiring designs. Starting today, an introductory offer for a Zuzee All Access Pass Z Pass is also free, providing access to extra designs, special user icons, gifts and an unlimited catalogue of personal designs. After the introductory period, members can continue enjoying the all access Z Pass with an annual subscription for $39.95 or $4.99 per month.
About Zuzee Interactive, Inc.
Zuzee Interactive, Inc. is headquartered in Vancouver, British Columbia, and was founded by parents who wanted to design a place for girls to create and connect online in a safe and meaningful way. Zuzee.com is a creative online community where tween girls can design with photos and connect with friends in a safe environment created just for them. For more information, please visit zuzee.com, and follow Zuzee on Facebook and Twitter @zuzeeparents.
# # #