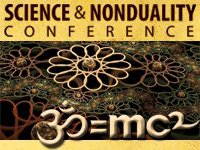 (PRWEB) October 19, 2011
FORA.tv, the leading online destination for video programs from the world's best conferences and events, announced that starting October 20, 2011, it will live stream sessions from the third annual Science and Nonduality conference, which will gather more than 70 spiritual thinkers, philosophers, artists, teachers and psychologists to explore the concept and paradox of time from the perspectives of modern science, ancient traditions, philosophy, phenomenology, psychology and, of course, direct experience.
FORA.tv's Science and Nonduality offering enables viewers to watch the sessions of the four-day event live as they happen from October 20, 2011 to October 23, 2011, or on demand after the event has ended. Viewing options include free video highlights of individual conference sessions available on demand, and a $195.00 event pass to view all complete conference programs live or on demand.
The Science and Nonduality Conference, originating from San Rafael, California, will feature presentations of world-renowned quantum physicists, scientists, lecturers and authors like Jeff Foster, Stanislav Grof, John Hagelin, Menas Kafatos, Lynne McTaggart, David Peat, Dean Radin, Rupert Spira, Llewellyn Vaughan-Lee, Fred Alan Wolf and many more. Complete conference information can be found at http://sand.fora.tv.
About FORA.tv
FORA.tv is the leading online destination for video programs from the world's best conferences and events. With more than 10,000 free and fee-based videos, FORA.tv has the web's largest collection of programs that feature the people, issues, and ideas changing the world. FORA.tv helps hundreds of organizations including the Aspen Institute, the Economist, the New York Public Library, and Wired expand the audience for their events. FORA.tv has been named a Top 50 Web Site by TIME, and a Top Education Site by The Telegraph. FORA.tv is funded by a select group of investors led by William R. Hearst III and is based in San Francisco. For more information, visit http://fora.tv.
###