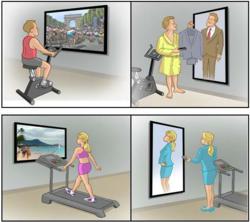 San Francisco, CA (PRWEB) October 19, 2011
Osann IP Consulting and Mary M. Fasching today announced the auction of their Electronic Mirror patent portfolio at the ICAP Patent Brokerage Fall 2011 Live IP Auction on November 17th in San Francisco.
This unique IP provides a broad set of claims for TV viewing in landscape mode and mirror functions in portrait mode. In realtime mirror mode it functions just like a conventional mirror. You can also capture still images, or set it to record a video clip and rotate your body 360 degrees to check your ensemble from all angles. Images and videos of previous outfits can be re-called for review, and portions of one outfit can be electronically combined with portions of other outfits to view combinations before they are actually worn. Stored images of accessories such as shoes, jewelry, scarves, or handbags may be overlaid to assist in choosing the best ensemble combination.
Images and videos captured on an Electronic Mirror can be transmitted and displayed on PCs, Smart-Phones, Tablets, and other Electronic Mirrors, enabling users to get opinions from their friends - a new twist on social networking when tied to Twitter or Facebook. Images of different ensembles can be saved in a database and recalled at will. Imagine flipping through dozens of ensembles in seconds when deciding what to wear instead of sequentially trying on outfits in order to find one that suits your mood or a special occasion. This IP makes it happen.
Entitled "Electronic Mirror", a provisional application with all claimed elements was filed on 3/13/2007. The corresponding non-provisional application issued in 2011 as US Patent No 7,978,246. Pending Continuation Application No 13/163,708 is included in the auction lot with claims focused functional combinations that are expected to be allowable. The Continuation application also adds method claims.
Video technology has never been effectively applied to personal grooming and appearance. This IP makes it happen. Companies in the business of manufacture or sale of wide-screen TVs and flat panel displays should be interested in this IP. Companies in the exercise machine business are now pairing their machines with displayed videos to make the exercise experience more real and enjoyable. They should also be interested.
To find out more about this unique IP portfolio, the IP Auction event, and the patents being offered, contact: Dean Becker at (561) 309-0011 or Dean(dot)Becker(at)us(dot)icap(dot)com .
About Robert Osann and Osann IP Consulting:
Robert Osann is an Intellectual Property consultant, inventor, and veteran of five venture-backed startups. He was the founding CEO at two VC-funded startups and a co-founder at three others. With equal experience in both engineering and marketing, he is also an inventor with 36 US Patents issued and more than 20 applications pending. Since 2007, he has sold 6 US patents and 9 pending applications in four transactions to three different buyers, including the sale of a Smart Phone patent portfolio at the Ocean Tomo Fall IP auction in 2007. Visit http://www.silaero.com .
About ICAP Patent Brokerage:
ICAP Patent Brokerage is a division of ICAP plc and the world's largest intellectual property brokerage and patent auction firm. Visit http://icappatentbrokerage.com/forsale .
Media Contacts:
Luisa Sepulveda
ICAP Patent Brokerage,
312-327-8162
Luisa(dot)Sepulveda(at)us(dot)icap(dot)com
Robert (Bob) Osann
Osann IP Consulting
408.313.1990
bob(dot)osann(at)silaero(dot)com
###