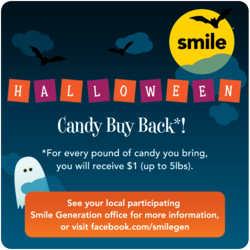 Operation Gratitude, a non-profit organization whose mission is to "lift morale, bring a smile to a service member's face and express to our Armed Forces the appreciation and support of the American people
Irvine, CA (PRWEB) October 20, 2011
After Halloween, parents are often faced with the dilemma of what to do with the many sweet treats their children collect from a night of Trick or Treating.
This year, a number of Smile Generation dentists are participating in the Halloween Candy Buy Back program to benefit Operation Gratitude, a non-profit organization whose mission is to "lift morale, bring a smile to a service member's face and express to U. S. Armed Forces the appreciation and support of the American people," by sending care packages and letters of appreciation to the troops. Various Smile Generation-approved offices are inviting trick-or-treaters to bring in their candy to the dentist and receive $1 per pound of candy. The event is open to children 12 and under. Kids can sell up to 5 lbs of candy to their family dentist during designated event times. Event dates and times vary per office.
Visiting the dentist twice a year and brushing daily are great habits to develop early on, but doing away with excess sweets would really give one's teeth and overall health a boost.
Research shows that global sugar consumption for kids increases by about 2% annually and currently sits at 50 million tons per year, which means parents need to be sure their kids teeth are being cared for more than ever. High sugar intake is associated with dental caries, hyperactivity and weight gain.
So after the costume parade and Halloween trick-or-treating are over, visit the neighborhood Smile Generation dentist for the Halloween Candy Buy Back event. To find dentists participating in the event, you can go to http://www.smilegeneration.com/candybuyback.
About the Smile Generation®
Smile Generation is a referral service for best-in-class dentists committed to modern dentistry and patients' happiness. The Smile Generation connects patients with great dentists dedicated to delivering on the Right Fit™ promise: providing an exceptional patient experience and advanced clinical care. The Smile Generation family is made up of over 200 dental offices throughout Arizona, California, Colorado, New Mexico, Nevada, and Texas. Smile Generation-approved offices are supported by Pacific Dental Services (PDS™). PDS™ is one of the country's leading dental service organizations, providing state-of-the-art support services that allow dentists to concentrate on the highest levels of cost-effective patient care.
For more information:
http://www.smilegeneration.com
# # #