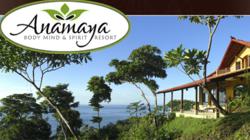 Anamaya Resort is host to a number of fun, healthy and exciting retreats and their Yoga Teacher Trainings have become a big part of their yearly program.
Costa Rica (PRWEB) October 21, 2011
The past two decades have seen an exponential growth in the popularity of yoga and meditation in North America. Yoga studios and retreat centers have been materializing at a rapid rate and therefore so is the amount of certified yoga instructors needed to staff these businesses. Anamaya Resort and Retreat Center is host to a number of fun, healthy and exciting retreats and now their Yoga Teacher Trainings have become a big part of their yearly program because of the high demand. In their first year of operations they hosted one teacher training and they were surprised by the overwhelming response. At the end of their second year they will have hosted a total of five trainings because of the amount of interest to train at their center. They started with two yoga teacher trainings (YTT's) at the beginning of this year but quickly had to add a third...then a forth and now a fifth. All five YTT's are completely sold-out so they are in the process of building more accommodations to keep up with the demand. Co-Owner Kelsey Matheson-McCord said, "Our Resort is host to a variety of unique retreats, but we were not anticipating the incredible response we've had to our yoga teacher trainings. Originally it was just a small part of our yearly program and now it's a huge part of our business. We're thrilled to know that our students feel like they are receiving a high quality training experience."
This physical Indian art form that is deeply ingrained in the history of India and its culture. It is an ancient science that dates back over 5000 years. It has obviously evolved over that period of time but the physical, mental and emotional benefits of practicing yoga are unchanging. Now that Eastern customs are more commonly found within Western practices, there has not only been a rise in the popularity of yoga but also in other forms of health and wellness practices.
Yoga Teacher Trainings normally include all the materials needed to become a certified yoga instructor, but there is definitely a huge appeal to taking the training somewhere exotic. Some of the top yoga teacher trainings take place in Bali, India, California, Thailand and Costa Rica. It is becoming a big business all over the world and aspiring yoga instructors are looking for courses that will provide them with best quality training and experience. The yoga training's at Anamaya have been so popular that they've had to multiply the amount of retreats that are dedicated specifically to those programs.
A typical Yoga Teacher Training program is a 200 or 300-hour course that takes approximately one month to complete. Most training's have practical exams as well as written exams and the students learn a variety of yoga styles, poses, breathing techniques, meditations, yoga philosophy, anatomy and most importantly how to teach yoga to a group of students. Some courses also include lessons on additional health and wellness practices as well as classes in other areas of science. Each syllabus is unique which gives students a great variety to choose from when deciding on which Yoga Teacher Training Center they decide to study with. Anamaya Resort and Retreat Center in Montezuma, Costa Rica have a number of instructors who teach yoga teacher training programs so there is something for every aspiring yoga teacher…or even someone who is only interested in enhancing their own skill level.
Anamaya is the top hotel on Trip Advisor for Montezuma and their regular retreats are in high demand but the popularity of the YTT's caught them a little by surprise. They offer a number of interesting yoga retreats throughout the year on top of their teacher trainings including yoga and surf retreats, zumba and yoga, pole-dancing and yoga, detox retreats and many more. Costa Rica is a beautiful country to visit but experiencing a retreat there will turn any vacation into something far more adventurous and fulfilling.
Contact:
Kelsey Matheson-McCord
Vice President/Co-Owner
Anamaya Resort & Retreat Center
kelsey(at)anamayaresort(dot)com
http://www.anamayaresort.com
###